Some people like to relax on vacation, while others prefer to spend it actively. Today, a text about a place that the second group will definitely like – Sport Areal Kliny. Take a look at why you should visit this place!
For me, it was a base for three days and it worked perfectly. The on-site bicycle rental makes it easy if you want to ride around the area.
Localisation
Sport Areal Kliny is located in the Krušné Hory, recently inscribed on the UNESCO World Heritage List. Kliny is a few kilometres away from the German border, and the nearest larger Czech city is Litvinov (8 km). It is approximately 50 kilometres from the Usti nad Labem.
What to do there?
Sport Areal Kliny is situated on a hill and we can do several things on the spot. Guests can rent off-road scooters (Koloběžky) and downhill bikes (Kola). You can choose from several slopes of varying difficulty. Downhill scooters will certainly be a curiosity. Very rare in Poland and very popular in the Czech Republic. After the descent, a chairlift will be waiting for us and take us back to the top.
However, my discovery was another form of getting from below – Bobsleigh (Bobová dráha). The 900-meter descent with a height difference of 130 meters is impressive. The first run was shy, but the following ones I used the brake only when I had to. On the route, a 50-meter bridge, on which we ride four meters above the ground! It costs CZK 100, and for children from 7 to 15 years old, it costs CZK 80 (younger children can go down with an adult, then an additional 30 CZK for a normal ticket). It is worth adding that this is the only bobsleigh railway in the Czech Republic and Slovakia that uses a cable car to transport passengers and bobsleigh.
There are more attractions. You can use the ropes course, and if you plan a longer stay, a fully equipped sports hall is also available. There are plans to create one of the longest zip lines in Europe, so the list of reasons to visit will be extended!
In addition to attractions, it is worth adding that Sport Areal Kliny also offers accommodation (about 100 places of different standards) and a restaurant with a viewing terrace.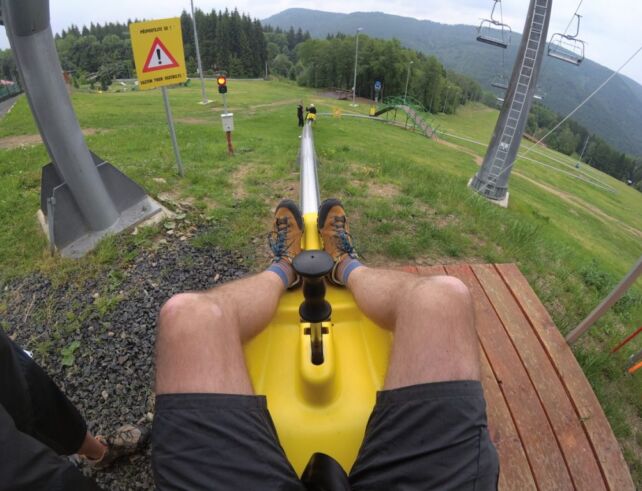 What's in the neighborhood?
As I have already mentioned, Kliny is situated in the Ore Mountains, which have been inscribed on the UNESCO World Heritage List. This entry concerns the mining traditions of the region (both on the Czech and German side). There are many hiking and biking trails in the area. It is worth visiting Teplice or the town of Krupka. There are buses and cyclobuses (buses adapted to transport bicycles) throughout the region, so public transport is not a problem. When using the bike rental you can choose an electric bike. With engine assistance, driving 50 kilometres in the mountains will take 2-3 hours, and the views will be unforgettable.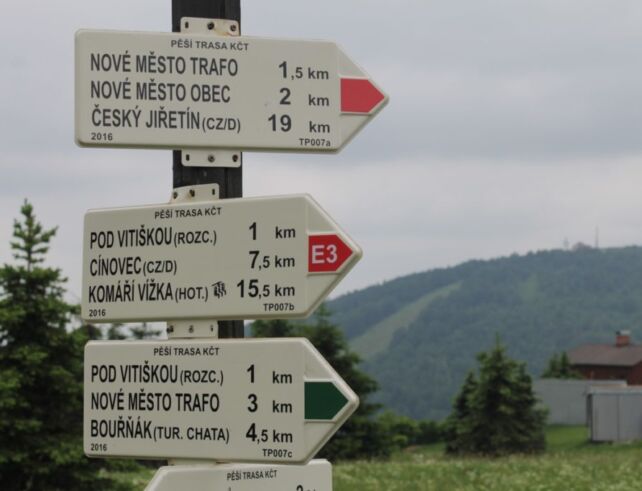 When?
Despite the fact that I have described Sport Areal Kliny in the context of summer, this place will also be perfect in winter. Downhill runs, ski lifts and cross-country ski trails make this place worth visiting also in the winter months. Kliny is surrounded by forests, so I think they can surprise you at any time of the year!
Interesting fact
One of the things that stuck in my head after my stay at Sport Areal Kliny was a sticker on the lift saying that the facility was not financed by the European Union or state subsidies. Such a snap on the nose of all investments that would never have been realized without funding and their purpose is often not entirely clear. In this case, you can see at first glance that the money is well spent! :)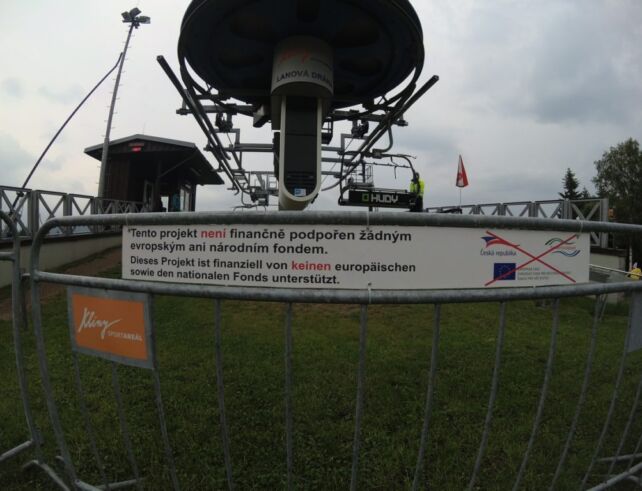 Worth to visit?
If you like to spend time actively, this place will appeal to you. The beautiful surroundings and the complex located a bit off the beaten track make it possible to actively relax.
More photoes!