Polish cuisine is diverse, and its individual dishes are known all over the world. Today I invite you to a list of the best Polish products according to travel bloggers from around the world.
Pierogi
I first travelled to Poland back in 2013, as a vegetarian it was a lot less easy than it is today. My favourite dish of choice back then was a pierogi. They came in all different shapes, sizes and fillings (from sweet to savoury) and sustained me through a 10-day trip.

Recently I went back and spent 48 hours in Warsaw and could not believe how many vegetarian options were available. That being said, I lost my heart and gained at least a dress size thanks to pumpkin filled buckwheat pierogi. The texture of the buckwheat variety is slightly less soft than the regular pierogi and tends to keep its texture better. In addition, it blends perfectly with the pumpkin, balancing out the sweet and savoury aspects perfectly. Buckwheat is a grain that can be found around Poland, therefore hunting down a buckwheat Pierogi should be pretty easy.
If you do find yourself with too many buckwheat Pierogi (is that even possible), ask for a doggy bag and take them home. Simply warm them up the next day in a pan with a bit of butter until the outside turns a golden brown and you have yourself the perfect breakfast spread!
Caroline Muller – veggiewayfarer.com
One thing not to be missed when trying Polish cuisine is pierogi. These dumplings are filled with sweet or savoury fillings are a popular dish in all Polish cities as well as households in Poland. Pierogi are made from round circles of dough and once filled, they are boiled in water. However, to eat them afterwards, you can also pan fry for a little while to make them a little crispy.
Some of the popular fillings include; cheese and potato (ruskie), Sauerkraut and wild-mushrooms, meat (usually pork) and lastly blueberries. Pierogi are delicious when topped with a small portion of sour cream and some fried onions too.
My personal favourite are cheese and potato filled pierogi, or just the cheese ones, since I'm a big fan of cheese dishes. When visiting Poland on a road trip, I thought I had best pierogi that I've ever eaten in Krakow, until my Polish sister-in-law made at least 100 fresh pierogis for Christmas – so delicious!!
Making them can take quite a while to prepare correctly, since you need to prepare the dough and all the fillings well. So, if you try, make loads at one go and then freeze any additional ones for future eating. This is great as you then have lots of fresh Pierogi at your disposal, perfect for defrosting for a lunch or dinner.
Zoe Elliott – togetherintransit.nl/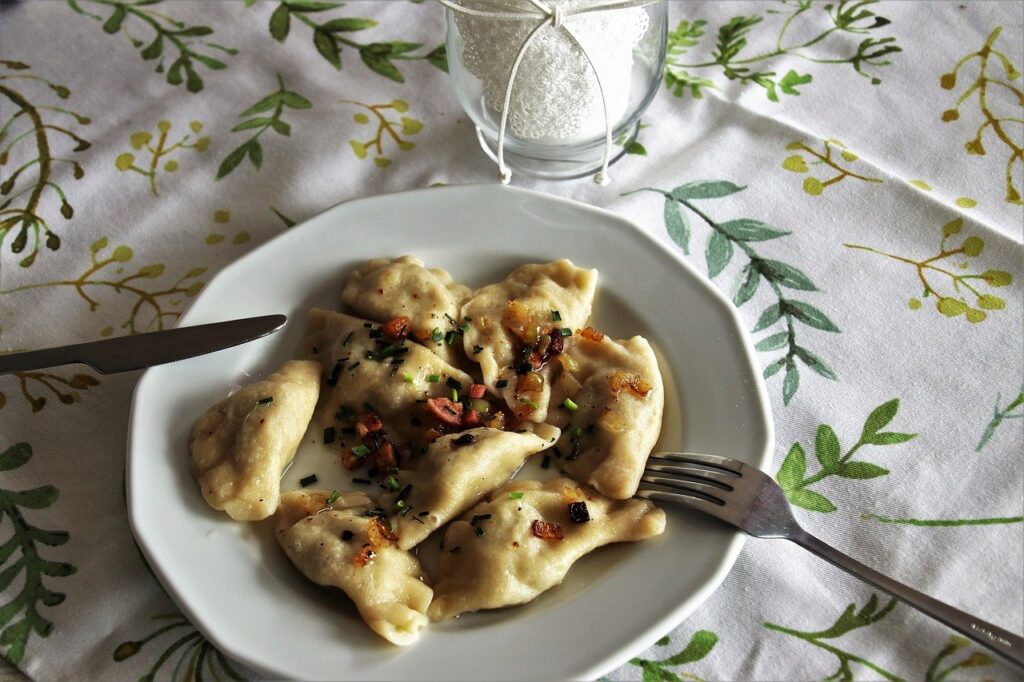 Bigos
Bigos is a delicious one-pot stew that originates from polish cuisine but also appears in other eastern European countries' cuisines. Bigo can be translated as Hunter's Stew and includes cabbage, sauerkraut and other vegetables. In my opinion, Bigos is best when made with wine which gives it a slightly more flavourful taste with sweet undertones. Bigos is absolutely delicious on a cold day if you've spent the day outside and need something hot to warm you up. It's a winter dish and not something you would enjoy on hot summer days.
There is usually some type of meat involved in Bigos which is stewed for hours so it's tender and soft. However, there are also vegetarian options and Bigos doesn't necessarily have to be a meat dish. If there is meat involved it tends to be beef or chicken but Bigos can also be made with pork or different types of bacon. Definitely try several types of Bigos to find out which one is your favourite. Bigos doesn't spoil very quickly and can be eaten the next day or even several days after cooking.
Victoria Heinz – guideyourtravel.com
Pączki
While Polish cuisine is best known for its main dishes, soups, stews, and dumplings, Polish desserts and sweets are equally as delectable. Paczki are among the most popular Polish sweets.
These deep-fried doughnuts are mostly eaten on the last Thursday prior to Ash Wednesday in Poland, a day known as Fat Thursday. However, in Polish communities across the United States, these tasty treats are widely eaten on the Tuesday before Ash Wednesday, a day known as Fat Tuesday, and also known as Paczki Day among Polish immigrants to the USA. Celebrating Paczki Day is a great way to incorporate travel and other cultures into your life at home.
Paczki are similar to Portuguese Malasadas, or jelly doughnuts in the United States. However, they are heavier and richer than typical doughnuts. Traditional paczki were filled with rose hip jam which can have a tart, somewhat floral taste. But nowadays you can find paczki filled with all sorts of yummy flavors, like strawberry, raspberry, lemon, or sweet custard, and topped with sugar or powdered sugar.
Although you typically buy paczki in packs of 6 or a dozen, because of how rich and sweet they are, they are quite filling. One of these doughnuts is likely all you will want to eat in one sitting. Whether you have paczki for breakfast, dessert or just a once-a-year indulgence on Paczki Day, you'll definitely want to have these delicious treats again!
Melissa Smuzynski – parenthoodandpassports.com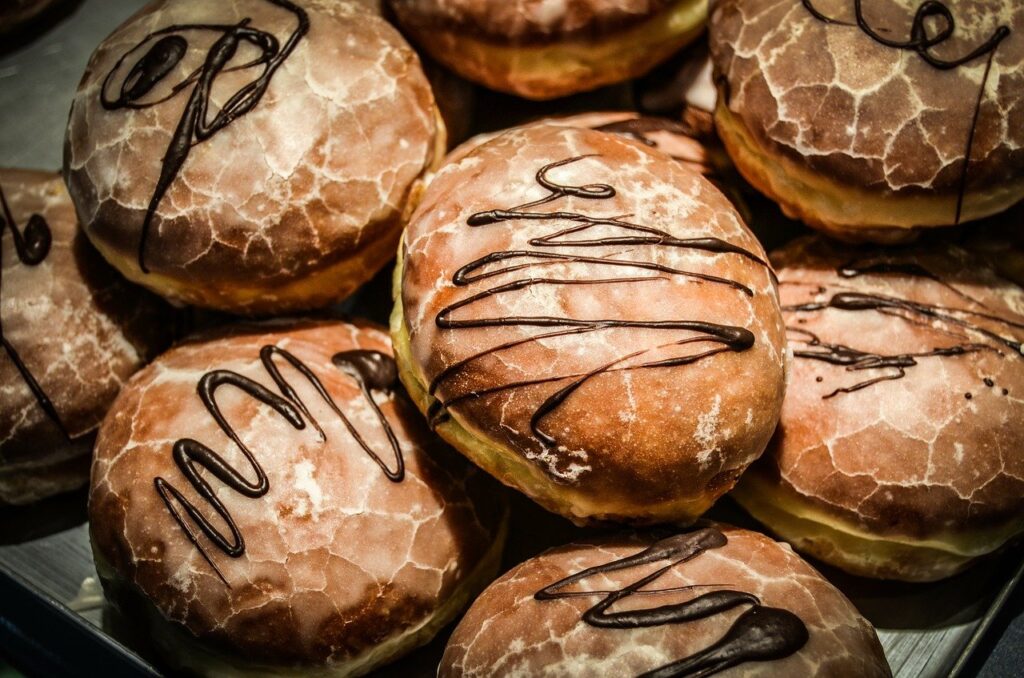 Zapiekanki
For anyone visiting Warsaw for the first time, you have to try Zapiekanka.
While we had holidayed in Poland a couple of times we had not visited Warsaw previously and we did not know what to expect when we got there. Our Polish friends had taken us to restaurants to have bigos, Rosol, goulash and we had sampled Krupnik vodka but it wasn't until we got to Warsaw that we had Zapiekanka…and it was so good.

We were staying in a hostel in the old town area and the guy at the desk told us the place next door made one of the best in the city. It actually took us a couple of hours to find it as we didn't realise it was just a window in a building leading to a kitchen rather than a full shop but he was right, it made the best Zapiekanka we had in the city.

Zapiekanka is like a sub or as many people call it Polish pizza. It's an easy on the go snack and you can find many places over the city that have it. You can choose the size being either a half a sub or a full. There are different combinations of toppings you can get but our favourite one was ham, onion, mushroom and cheese. It is then put under a grill so the cheese melts and it is wonderful.
Bec Wylde – wyldfamilytravel.com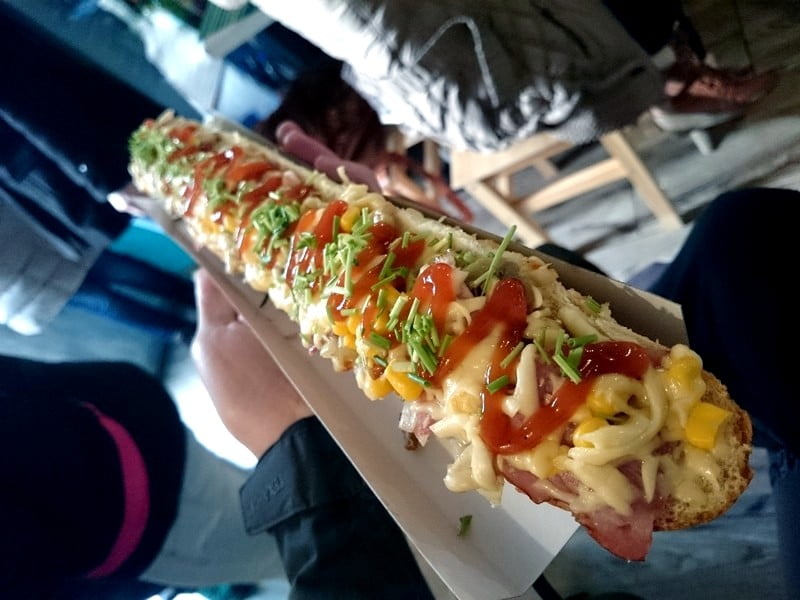 Żurek
One of my favorite things to do when traveling to a new country is trying the local cuisine. When I went to Poland, I had the opportunity to try plenty of Polish dishes, which meant pierogis, savory pierogis, sweet pierogis, and … more pierogis. For those that are unaware of pierogis, they are simply dumplings. But in Poland, they like to fill it with unique fillings such as potatoes, raspberries, blueberries, and so on. However, for me, I didn't like a single variation of the pierogis.
Disappointed by pierogis, my love for Polish food was only redeemed after I tried a soup called zurek on my visit to Krakow. It is a soup made from fermented rye flour, which makes the soup somewhat sour. Combined with meats such as sausages, bacon, ham and vegetables such as potatoes and mushrooms, zurek was flavorful. It wasn't trying to cover every flavor profile (like the pierogis). It had one flavor profile and it excelled at it. Sour and savory, it was the most appetizing Polish dish I had on my trip.
Zurek is the only dish in Poland that I still dream about. Unfortunately, it is not something that can be easily found in the western hemisphere. However, that gives me a reason to return to Poland and explore the beautiful country!
Sean Lau – livingoutlau.com
Gołąbki
If you've been in Poland even for 5 minutes it's probably no surprise to you that this dish is essentially another version of the cabbage roll. While there are versions on the theme all around the world, Polish Golabki is white cabbage leaves stuffed with minced meat, onions and rice or barley, served in a tomato gravy.
While I may be biased since cabbage isn't exactly my favourite vegetable, I feel that this well loved food is perhaps more of a comfort food for local people and made best by a loving grandma at Christmas time. I, on the other hand, just picked some up from the first place I saw near my hotel in Warsaw.
Since it's often found as a cheap side dish or relatively healthy street food, I feel the low quality of meat in the particular Golabki I tried may have tainted my opinion of the food. I can imagine with higher quality ingredients, the flavours of the spiced meat and broth would perfectly balance with the tomato sauce for a moreish snack. I would love to find a Polish grandma to borrow to try some homemade Golabki.
Yulia Saf – misstourist.com
Placki ziemniaczane
Placki Ziemniaczane or potato pancakes is a traditional lent recipe. As it was a simple and cheap dish to make, placki quickly became a good option for a day to day meal at times of poverty. Nowadays, these delicious pancakes can be found on the menus of both milk bars and restaurants.
The local pancakes are crunchy on the outside, tender and fluffy on the inside and can be garnished with a variety of toppings. Depending on these, they can be consumed as a starter, main dish or even dessert. Served with sour cream and chopped chives, they will make for a great snack. Put next to gulash or a rich stew with wild mushrooms, one will find them a tasty and filling lunch. If you add powdered sugar or applesauce, you get a quick dessert. Whatever you decide to serve them with, just make sure they are warm and golden.
Traditional cuisine is for sure one of the best reasons to visit Poland. Of course, there are several delicious dishes, but placki are also easy to make, do not contain any special ingredients and can satisfy even the pickiest tourist.
Raluca Silvia – travelwithaspin.com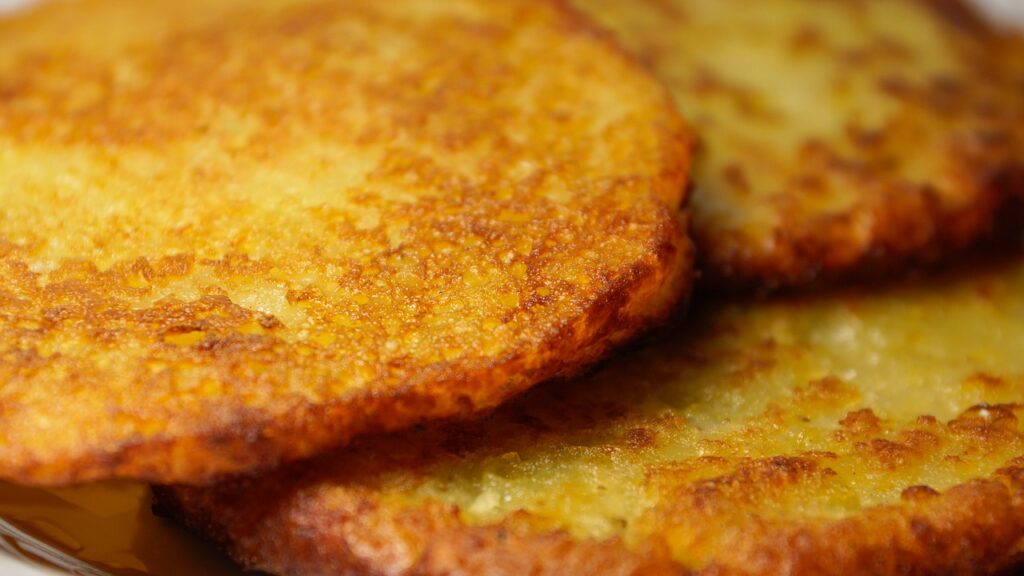 Barszcz
After traveling to Poland numerous times, we've developed a set pattern of things we like to do, and the very first thing on our list is to find some delicious borsht for our first night there. Borscht, a hearty soup made with beetroot is such a great way to warm up on a cool evening, especially when paired with a great Polish beer.
We first had borscht when visiting Boleslawiec, the hand-painted home of Polish pottery, famous in the entire world. We stayed in the Blue Beetroot and they prided themselves in cooking with this often overlooked vegetable, the beetroot. Served piping hot, this bowl of borscht had hearty chunks of carrots and onions as well as some delectable strips of beef. It was pure heaven.
As an American, my first thoughts about trying a beetroot soup was completely out of my comfort zone. To be honest, I didn't expect to enjoy it. Beetroot has such a strong color and taste that most Americans have never embraced. Now, that I know what I've been missing, I cannot get enough. There's something about stewing all of the vegetables, herbs and spices together slowly transforms the concoction into a magical bowl of comfort. Then you go one step further and top it off with some cream. It's just amazing part of polish cuisine.
Corinne Vail – reflectionsenroute.com