City breakfasts are slowly entering Kielce. Increasingly, we plan to eat ten meals a day outside the home. Where to eat a good breakfast in Kielce? There are a lot of these places, and here are my favorites!
Where to have breakfast in Kielce?
Plac Cafe
This is one of the first places in Kielce focused on breakfast. They are served throughout the day, and you can choose from a lot of items, both sweet and savory. There you will find e.g. shakshuka, pancakes, omelettes, croissants and many more. The also have good coffee and nice location!
Plac Cafe is located on Plac Artystów (Sienkiewicza Street) and has a large garden, which is heated, so on colder days after the summer season it also worked perfectly. Although a good place for breakfast, it is also perfect for lunch, beer or a drink with friends!
Among the most popular breakfasts, the Polish breakfast, shakshouka, challah with bacon, syrup and fruit and maple breakfast should be recommended.
It's a good place for breakfast, but also for lunch or coffee, I sometimes like to sit with a computer and work through the window at the life going on at Sienkiewicza and Plac Artystów.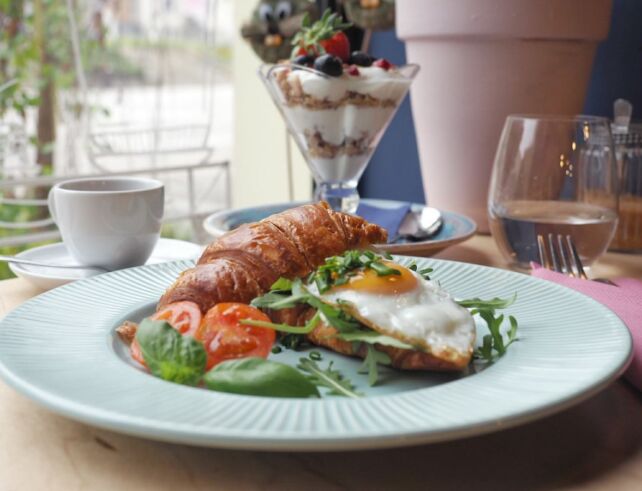 Calimero Cafe
The breakfast offer consists of several proposals. There you will find sweet and savory options, and each offer is accompanied by a drink at a promotional price. Breakfast is served daily until 14.00.
The offer includes croissants, scrambled eggs, omelette, toast, waffles and "breakfast of the boss". Calimero Cafe consists of two premises located on the Solna Promenade and at Paderewskiego Street. They differ in design, but their offer is similar. The service in the premises is efficient and fast, and the dishes are tasty – it is a good location for a lazy breakfast, business meeting or coffee. Despite the fact that breakfast out in Kielce is not yet very popular, places such as Calimero Cafe are filled with guests from the very morning, especially on weekends.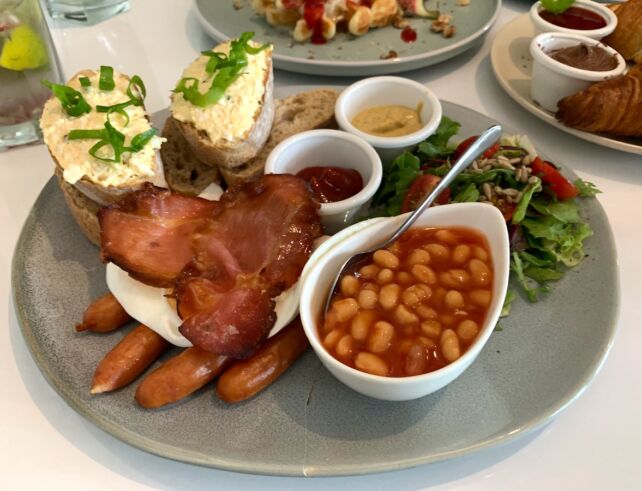 MeetMe Cafe
MeetMe is a cafe located on the Kielce promenade. The restaurant is located on the corner of Sienkiewicza and Mała Streets (for many years Cube Cafe was located there, but it did not survive the test of time).
The breakfast card itself is very clear and pleasant to read. An interesting idea is to go out to the customer with the "guest suggestions" column, which was placed on the menu card.
At MeetMe Cafe you can relax and watch what is happening outside the windows. We had the opportunity to try various things, including shakshouka, English breakfast or croissants – they were nice breakfasts, for which we will probably come back.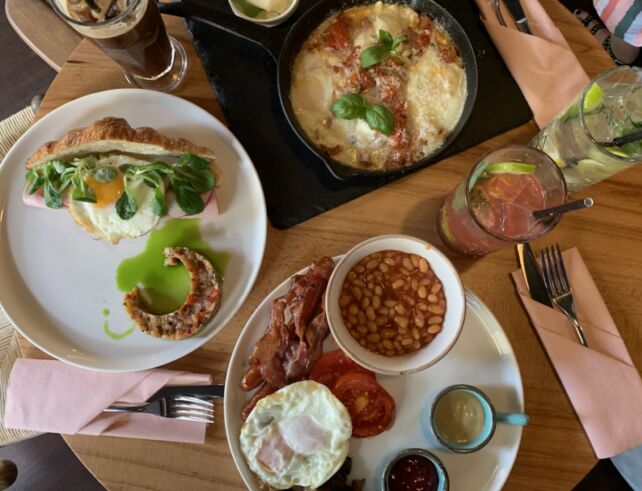 Burger & Co
Burger & Co, as the name suggests, is a place that started with burgers and these are still on offer. For some time, it also serves breakfast, which is very popular.
Initially, this place was located at Bodzentyńska Street, and today it is located at Sienkiewicza Street (near Wesoła Street). There are a lot of seats in the restaurant, which are often occupied by hungry people.
As this is a text about breakfasts, not burgers, we will focus on this offer. The menu is quite extensive, and in its composition you will find something sweet and savory. A lot of egg proposals await you, such as burrito with scrambled eggs, shakshuka or eggs benedict, but fans of a piece of meat will also find them in various sandwiches and other proposals.
An interesting option is a promotion in which we get free coffee or tea with any breakfast. Breakfast alone costs from PLN 18 to PLN 34.
During our recent visit for breakfast in Kielce, we were tempted for classic scrambled eggs, shakshuka and scrambled egg tacos. The dishes were tasty and the portions large!
Fragola Cafe
Fragola is a place that many people may associate with an ice cream shop. Why is it included in the text where you can find a good breakfast in Kielce? The answer is simple, after moving Fragola is a cafe and restaurant where you can eat a variety of dishes, and the breakfast offer here also has an interesting representation.
The restaurant is located above Silnica, on the Solna Promenade. Inside you will find a lot of seats, but often many of them are reserved, so keep this in mind when going for breakfast or dinner.
The breakfast menu is extensive and basically divided into several categories – savory and sweet, Croissants, Extra toasts, Challahs and Pancakes. In total, over 25 breakfast items are waiting for you. Prices range from PLN 16 to PLN 35.
During our visit, we were tempted to try shakshuka, which for some reason is called Chizhi-bizhi here and is called Georgian shakshuka. The taste is pleasant, slightly spicy and served with bread. We also tried beetroot hummus and Croque madame. Nicely presented and quite tasty breakfast items.
If you are not a breakfast classic and want to try something interesting, you can order various types of potato dumplings at Fragola, which many people recommend.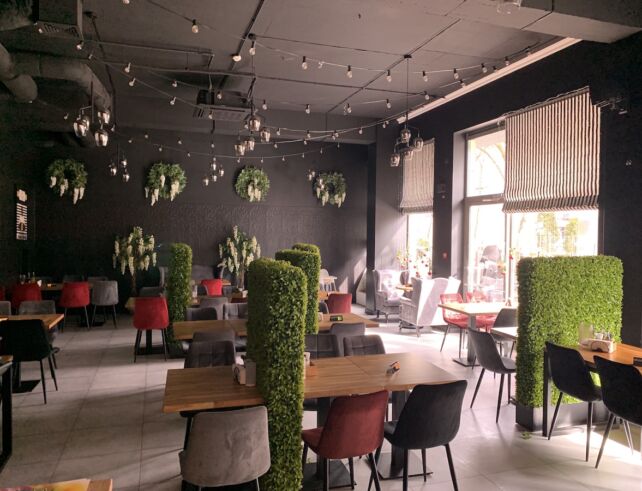 Ferment Neobistro
This restaurant is located in a building that once received the title of the ugliest in Kielce :) Its address is ul. Sienkiewicza 76. It is located on the section between Paderewskiego and Żelazna Streets. You can reach it from Sienkiewicza Street or from the back, from Czarnowska Street.
As the name suggests, you will find a lot of pickles in the place. The very form of Neobistro also determines that it is a place with an idea, where you will surely eat interestingly. If you had an idea for breakfast in Kielce and you didn't think about pickles, change your mind quickly!
The breakfast menu is large, but apart from the morning menu, you will also find a lot of interesting items that will prove to be a good way to start the day.
If you are interested in what a breakfast in Kielce full of pickles looks like, check out the Ferment Neobistro.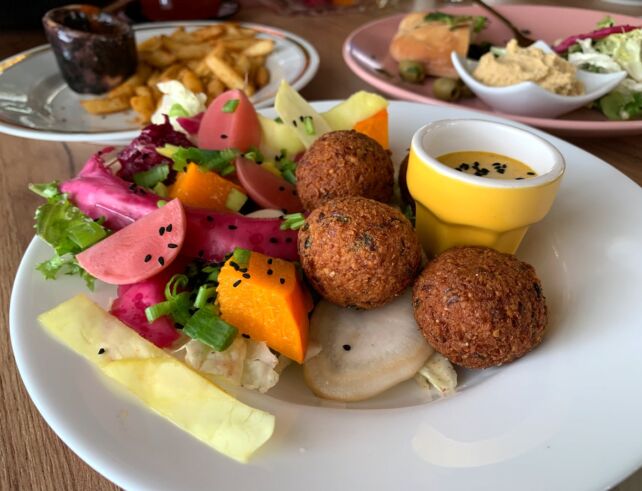 These are just some of the places where you can eat a good breakfast in Kielce! We hope that this trend will continue and more premises will appear with an offer that is at least as interesting, and maybe even more interesting!