We like trips to the zoo very much, although these types of places can be different. We always have somewhere in the back of our minds that keeping these beautiful animals in "cages" is not entirely fair. However, the contact of children with living specimens gives them so much emotion and knowledge that they will not get from books and movies, that we agree to this form.
We already have such a reflex that we look at each zoo we visit also in terms of organization and how the life of animals looks like there. The zoo in Krakow is small, but its location is almost perfect. Away from the center, on a hill and in the forest – people walk here pleasantly, and the animals look happy.
Location, access and parking
The ZOO in Krakow is located in the western part of the city, in the Wolski Forest, which in turn is part of the Bielańsko-Tyniecki Landscape Park. It occupies 20 hectares of the so-called Hermit hills. The exact address of the ZOO is Aleja Kasy Oszczędności Miasta Krakowa 14.
You can get here by car, which should be left in the parking lot. Interestingly, there are two car parks at the ZOO in Krakow. One at the very entrance, and the other – a few hundred meters below. On weekends, according to the signs, you should leave your car in the lower car park – be prepared for a walk uphill, which is not the easiest with a pram. Individuals with disabilities can park in the car park at the ZOO gate throughout the week, provided that they travel in marked cars. Parking costs PLN 15 for 5 hours. Payment in vending machines by card and cash.
You can also get to the ZOO in Krakow by public transport and here the best solution will be bus number 724. It leaves from the National Museum, so very close to the Market Square. The second line running in this direction is line no. 134, which departs from the Cracovia Stadion stop. Both the first and the second will take you to the zoo itself.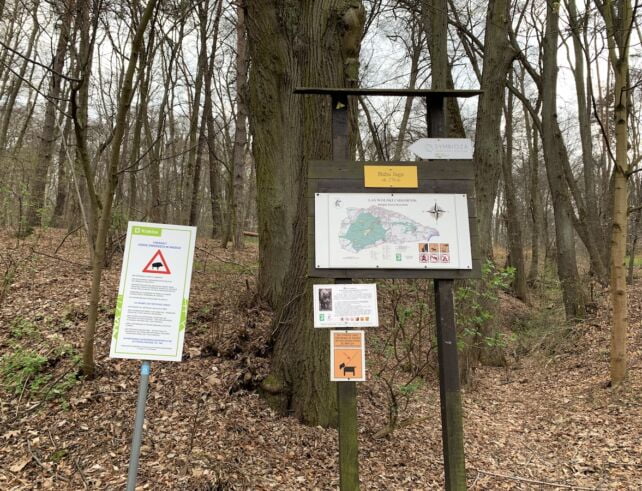 ZOO in Krakow – price list and opening hours
What is interesting and very encouraging, the zoo in Krakow is open all year round, also on Sundays and holidays. You can visit them from 9:00 to 19:00, but you can buy tickets until 18:00. We went to the zoo after Easter breakfast and it was a very good decision. However, it is good to come to the zoo as early as possible, because the number of visitors increases every hour.
Ticket prices vary depending on the season. From April to the end of October you will pay PLN 38 (normal), PLN 32 (reduced), and from November to March – PLN 28 (normal) and PLN 23 (reduced). Group tickets, annual tickets, discounts for the disabled and seniors are also available. Children up to 3 years old and children from orphanages are exempt from fees. You can pay by card at the cash desk.
Detailed information can be found on the website of the ZOO in Krakow, but I must point out that it is neither modern nor intuitive. You can also buy tickets in advance to avoid queuing at the ticket office on site.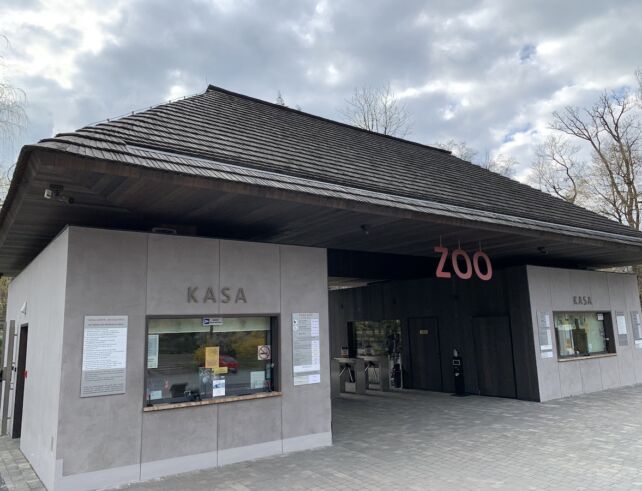 Sightseeing
Already near the entrance of the ZOO in Krakow, we are greeted by the largest specimens – beautiful Indian elephants. You will also find giraffes, zebras, lions, tigers, snow leopards, lynxes, lemurs, seals, camels… generally all animals that should be in a zoo. There are also lovely pygmy hippos that have recently moved into the new pavilion. It is worth mentioning here that the zoo is constantly developing.
Currently, a new monkey house (for chimpanzees and Japanese macaques) and an aviary are being built. This is a temporary inconvenience for visitors, but we did not feel it too much during our visit.
In addition to the outdoor catwalks, you must visit the night pavilion, where you can see e.g. a sloth and, of course, bats and an exotarium, where since last year you can watch nice Yemeni chameleons again. In the ZOO in Krakow there is a playground for children and a Mini ZOO, more about which in a moment. You will find here 4 toilets and two stands with defibrillators. Unfortunately, you will not find any catering facilities in the park – the restaurant is located outside the ZOO, at the main entrance.
You must spend more than an hour to visit the ZOO in Krakow. I think that in nice weather you can easily spend 3 hours here. One remark – while visiting we temporarily lacked signposts and repetitions of the ZOO plan – there could be more of them. If you succeed, get a map of the ZOO – it will make it easier for you to navigate around the grounds. Unless you prefer to just walk around and admire the animals you happen to come across. This is also quite a nice option.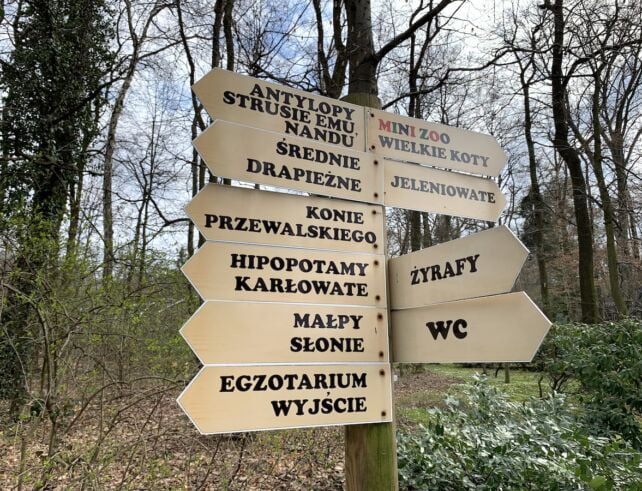 Animals
In the Krakow ZOO you will find about 1,300 animals, as many as 270 species. More than 100 of them are endangered species, e.g. Rothschild's giraffe or Przewalski's horse, but also the previously mentioned pygmy hippopotamus and snow leopard. The garden is also involved in activities aimed at returning animals to their natural habitat (reintroduction). Thanks to this, for example, a female giant condor born in the Krakow Zoo has a chance to live in the Andes in the wild.
The zoo in Krakow prides itself on being a place where animals not only live well – they also successfully breed here. Last year, in April, a female ocelot, Lilu, was born here, and in June, the family of servals grew by as many as three kittens. In June, a red panda was also born, as the first of this species born in this place. Young lemurs, alpacas, antelopes and bird chicks also appeared in the world. This spring we saw a young llama and some baby goats.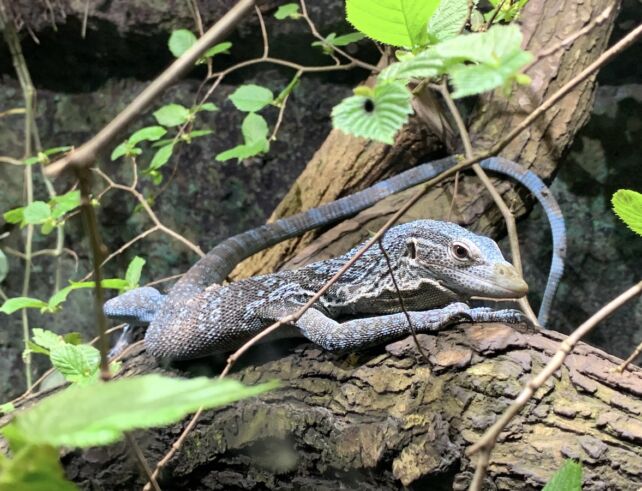 Children's ZOO
As I have already mentioned, in the ZOO in Krakow there is also the Mini ZOO, which is probably the most liked by the youngest. It is a place where we can take a closer look at selected animals, stroke them and sometimes even feed them. According to information from the zoo itself, we can meet here donkeys, goats, Shetland ponies, alpacas, llamas, miniature bunnies, steppe turtle, guinea fowl and cute silky hens.
During our visit we didn't notice only turtle and rabbits. There was also no possibility to buy food to feed the animals. Pets can be petted over the fence. Most of them approach us willingly and with curiosity. However, remember to watch your children – during our visit, the mother of the tiny llama was concerned that everyone was interested in her cubs. You have to remember that they are still animals, domesticated, but sensitive and skittish creatures.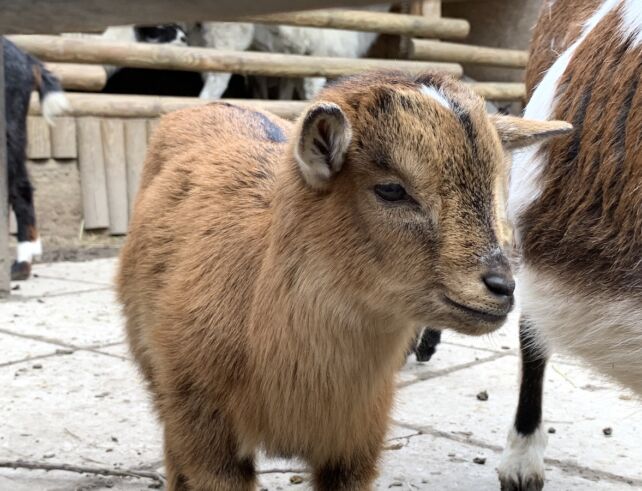 Worth a visit?
The zoo in Krakow is a very charming place. On a small area, as for a zoo, we can see interesting animals. A visit to the zoo is always a good idea to spend time with your family. The zoo is surrounded by forest on all sides, so walking along its alleys is pure pleasure.
You can easily spend the whole day here, and after leaving the zoo you can still take a walk in the forest. Of course, you can combine a trip to the Krakow Zoo with a visit to this beautiful royal city. What is interesting to see in Krakow you can read, among others in the text: Rynek from below – the underground in Krakow.