Trend for breakfast "in the city" has been developing for some time. Restaurants try to present themselves in this offer with a better or worse result. While visiting Radom, I decided to visit Kraft Bistro and try their breakfast offer. See if it's worth it!
Localisation
Kraft Bistro is located in the center of Radom (near the City Hall) at 4 Marii Skłodowskiej-Curie Street, in the building of the former "Wulkan" factory. The restaurant is located on the ground floor and has a large, atmospheric garden.
There are many places there, but also many willing to eat a culinary feast. During our weekly visit, around 10.00 am, we found the last free table outside. There was a lot more vacancies inside, but summer breakfast outside is definitely better.
The restaurant is open daily from 9.00 to 22.00, and on Saturdays until 23.00.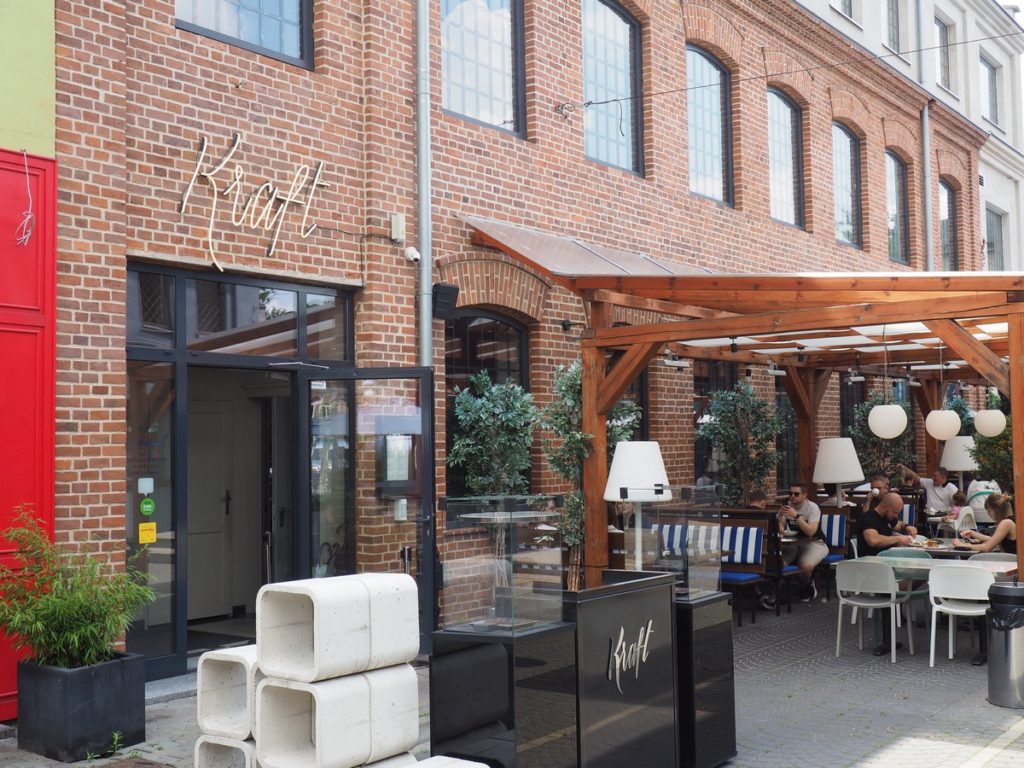 Whats in the menu?
Kraft Bistro has an interesting offer, which is divided into three parts. From 9.00 a.m. there is a breakfast offer, about which I will tell you more in a moment. It ends at 12.00 and is replaced by the lunch menu. In the evening, there are dinner dishes to end the day in a pleasant way.
The breakfast offer is broadly divided into 3 categories – Classic, Benedict and Sweet. Apart from them, we can choose juices, cocktails, lemonades, coffee, teas and prosecco. When it comes to food, we have a choice of 21 items for PLN 9-25.
Our choice?
Polish benedict (two rolls with poached eggs, hollandaise sauce, black pudding and onion) – PLN 9
Belgian waffle with blackberries and yoghurt – PLN 9
Croque madame (croutons with ham, cheese and fried egg) – PLN 9
Bagel with baked ham, caramelized onion and cheddar – PLN 9
Kraft shakshouka with coriander and avocado – PLN 9
Classic lemonade – PLN 9
Espresso coffee – 6 PLN
Our opinion!
Let me start with the fact that such a fashionable place, with a nice garden and an interesting offer of dishes serving breakfast at this price, is something admirable. The offer also includes more expensive breakfasts, but in general I rate the offer as cheap.
Two words about what we ate. Poached eggs with liquid yolk, crispy rolls and, at the same time, a delicate and expressive black pudding is a good combination. I ate the waffle only a piece because it disappeared from my eyes very quickly. As for the bagel, it was fresh and the combination of ingredients inside it sounded very well. Shakshouka is expressive, and the addition of avocado and coriander gave it an additional dimension. Finally, something that is definitely my favorite – Croque Madame. On the one hand, only toasts, and on the other hand, toasts – my favorite among all the dishes that I ate for breakfast that day!
Worth to visit?
Short version: It's worth it!
A slightly longer version: Kraft Bistro is a well-thought-out place. The breakfast offer is extensive, but spoiling itself. Attractive prices and very successful flavor compositions make this place worth visiting. Encouraged by breakfasts, I will definitely try the classic menu one day!