Going to this city, I knew that I had to try one of the local products, which are Nuremberg sausages. You will find them practically everywhere, and there is even a special museum connected to their history and production. Tasting regional products is something I can't imagine traveling without, so it couldn't have ended differently. Meet these amazing sausages!
Nuremberg sausages – history and present
There are many legends related to the origins of sausages in Nuremberg. Some stories say that they are so small that they can be sold through a keyhole after the restaurant closes, and others that prisoners were fed with them through a special, small hole.
Nuremberg sausages have over 700 years of history, and the first written mention of them dates back to 1313. The greatest boom for this delicacy took place in the middle of the 19th century. Today, sausages are still gaining in popularity and are perfect grilled for dinner, breakfast or as a snack.
Probably the oldest place in the world where sausages are served is the Gulden Stern inn, which was first mentioned in 1419!
A regional product with a Protected Geographical Indication
The Nuremberg sausage is closely associated with the city. 700 years of history have made it popular both in the closer and further area. In order to preserve the traditional recipe for the next generations and to support local producers, in 2003 they received the "Protected Geographical Indication" designation. This means that all Nuremberg Sausages must be produced in Nuremberg according to a strict procedure.
The sausage should measure from 7 to 9 cm and must not weigh more than 25 g. The basic ingredient is quite fatty pork, herbs and spices. Among the basic additives are salt, pepper and marjoram. Butchers often add some of their "secret ingredient". The ingredients are ground on a medium sieve and twisted into small sausages. Their fat content is up to 35%.
Interestingly, sausages do not contain gluten or lactose.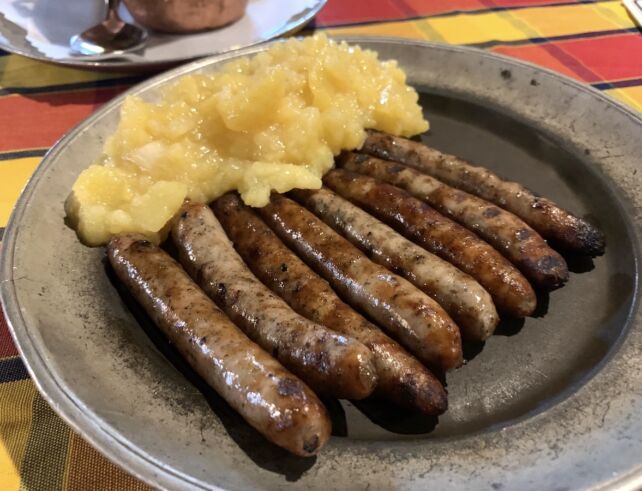 Where to try Nuremberg sausages?
You can buy Nuremberg sausages in shops, kiosks and restaurants that specialize almost exclusively in sausages, and even at the airport. You can buy them raw from the butcher, but also canned and take home.
We decided on two places where the offer was very similar and included sausages on a plate (in a certain amount and necessarily served on a tin plate), in a roll (Drei im Weckla), 2-3 soups and sausage additives (e.g. horseradish, mustard or potato salad). In the premises you will often find several other specialties, such as pork knuckle or sausages cooked in onion broth. There are six establishments throughout the city that serve traditional-style sausages.
The first place we visited was Bratwursthäusle bei St. Sebald, while the second one was very close to our hotel and it was Bratwurstglöcklein im Handwerkerhof. Both rooms looked the same inside. Attention from the very entrance was drawn by the fire on which the sausages were prepared. The menu in both restaurants, as I wrote a moment ago, was not long. Of course, apart from the dishes, it also included local beer and wine.
For 6 sausages with one addition (potato salad, sauerkraut or horseradish) you have to pay about 9 Euro (respectively 8 sausages – about 12 Euro, 10 – about 15 Euro, 12 – about 18 Euro). A roll with three sausages costs about 4-5 Euro.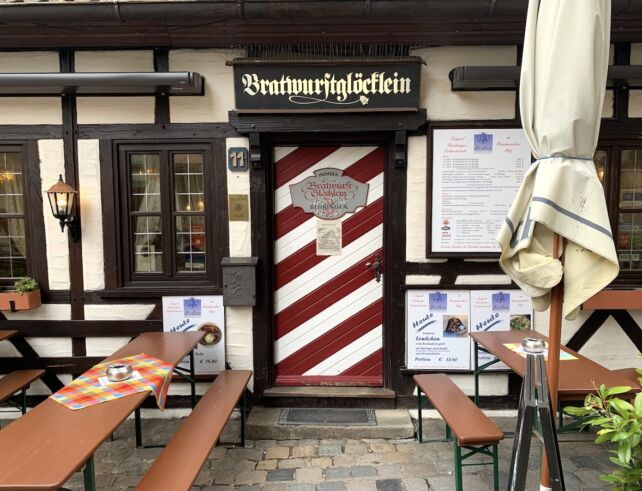 Bratwurstmuseum – location
This unique museum is located in the old town. The exact address is Bratwurstgasse 1, and it's best to get there on foot when wandering around the old town. The museum is not big, but thanks to the large signboard you will definitely notice it. It lies on an island, which adds to its charm. The staff speaks good English and is very nice.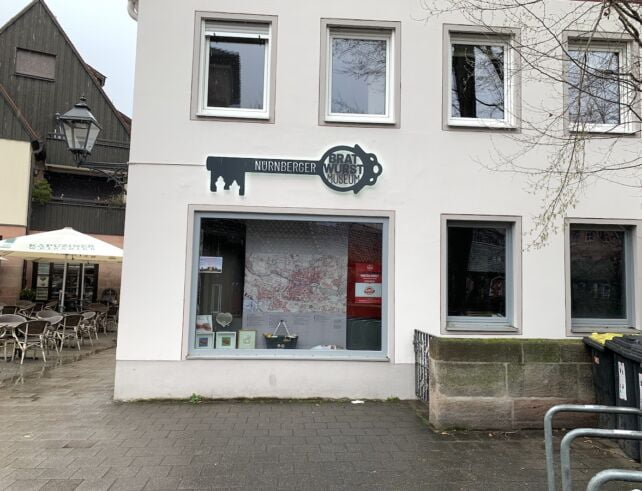 Opening hours and tickets
The Bratwurstmuseum is open from Tuesday to Friday from 10.00 to 17.00 and on Saturday and Sunday from 10.00 to 18.00. A normal ticket costs 5 Euro, and a discounted ticket costs 2.5 Euro. Children up to 6 years of age are exempt from fees. The museum is included among the objects that you can visit for free with the Nuremberg City Card – more about the card and the city in the text – Nuremberg.
Exhibition
The exhibition is not large, but interesting. We have an audio guide in English at our disposal, which turns out to be very helpful during sightseeing. Wandering through the exhibition, you will find historical information about sausages, but also current information on more modern production, recipe protection and other curiosities.
You will learn there, for example, how Nuremberg sausages are prepared, that they are always served on a plate in 6, 8, 10 or 12 pieces, and the plate itself, or if you prefer, the platter is tin.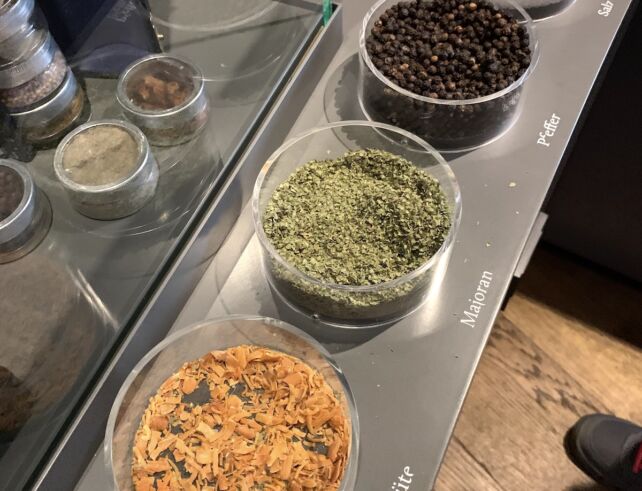 Nuremberg gingerbread
Nuremberg is not only famous for its historical sausages. Another regional product whose fame has long gone beyond the borders of the city and the country are gingerbread – Nürnberger Lebkuchen. Like sausages, they also have a Protected Geographical Indication. You can buy these gingerbreads in many places in the city, and some pastry shops even organize workshops or demonstrations of their production. In order for a gingerbread to be Nuremberg gingerbread, it must be produced in the city and meet compositional requirements. The main standard concerns the nut content, which must not be lower than 25% and applies to walnuts, hazelnuts or almonds. These gingerbreads must not contain more than 10% flour. Gingerbreads in chocolate, glaze or plain are available in stores. I definitely like the first two versions the most.
Nuremberg
There are many more reasons to visit Nuremberg than Nuremberg sausages or gingerbread, although these are really strong. If you are interested in this city and you are thinking about choosing this direction, be sure to check out the text – What to see in Nuremberg?