Bazars, markets, street stalls are places that I visit with great pleasure. I also made it in Australia. Taking advantage of a free weekend and a stay on the Gold Coast, I decided to visit Carrara Market, which, as it turned out later, is the largest permanent market in Australia.
It is located outside the centre but it is not difficult to find it. If you find yourself in Carrara, everyone will show you the way to the market. There is a large parking lot next to the bazaar, where you can leave the car.
It is worth to plan the visit and the places we want to see. Before coming to Carrara Market, I had a slightly different idea of this place. Upon arrival, it turned out that the part that interested me the most, (the one concerning food) was small. In total, there are about 400 stands in the bazaar.
Carrara Market is not only about stands. You will also find wooden sculptures created by Danish artist Thomas Dambo. They were created from fragments of buildings that once stood here and from pallets. There are three sculptures in the bazaar – a kangaroo, a python and a shark. There you will also find a mini-golf course stylized as jungle ruins, a river, a play area for children (face painting, inflatables) and other attractions.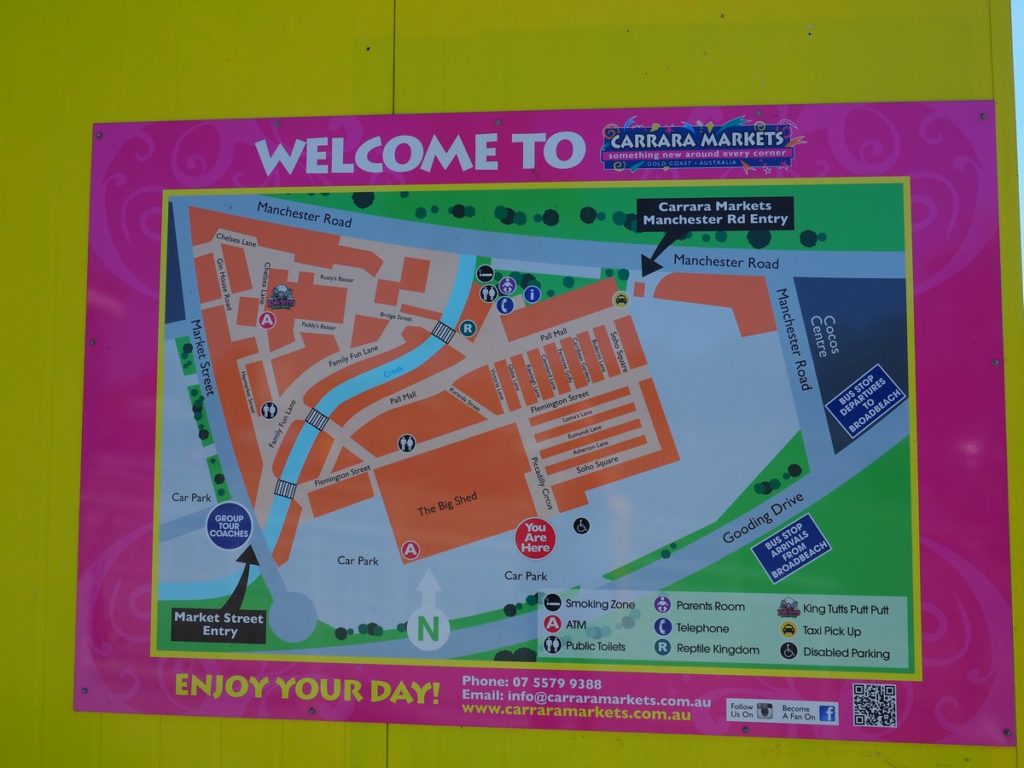 Among the stands, you could find a lot of junk products. There were also stands dedicated to souvenirs and Australian regional products. If you get hungry, you can visit one of the few places or confectioneries and eat well.
As for the food zone, I left it very happy. Before coming to Australia, I wanted to try Finger Lime, which is grown in Queensland. I just found them at the market and bought for a few days. If you've never seen finger lime, they are finger-sized citrus in a variety of colours (pink, white, yellow and red). They are sometimes called Citrus caviar because after the fruit is cut and pressed, the little parts fall out looking like caviar. They taste like a combination of lime and lemon, but they release the flavour only after biting the "pieces".
The second, typically Australian thing that I saw in Carrara Market for the first time was macadamia nuts in the shell. It's really hard to split – the Polish nutcrackers can't do it. But running after them with a hammer also has its charm.
In addition to the above-mentioned products, you could find a lot of fruit at the bazaar, including local bananas, both Cavendish and Lady Finger varieties. In addition to fruit and vegetables, the stands offered, for example, dried meat, which was very appetizing.
Before visiting Carrara Market, I did not know what to expect, because the word bazaar or market often associated me with a place where we can eat something. Here, the food-part is present, but it is only an element of the whole. When you are in the area, it is worth taking a look, and maybe you will find something for yourself.