We often associate Czech cuisine with knedliki and fried cheese. However, there is another classic Czech dish that you can find in many places, and the number of its versions is huge – garlic soup. All her versions have one thing in common – it's delicious!
If you have been to the Czech Republic you probably have tried this soup! You will find different versions of it in different places. Sometimes it is with croutons, sometimes with cheese, sometimes with ham and sometimes an egg. There are many options, and one of them is here.
Ingredients
Meat broth (preferably poultry) – 1-1.5 liters
Potatoes – 3 medium size
Onion – 1 large
Bread for croutons – 3 slices
Smoked bacon 100 g
Dried marjoram – 1 tbsp
Hard yellow cheese – 100 g
Garlic – 15 cloves
Green parsley – if you have to decorate
How to prepare garlic soup?
We start by chopping onions and peeling garlic. If our garlic germinates, the green part should be cut off, because it makes our breath not very fresh! :) Then finely chop the garlic, cut the onion and bacon into cubes. Fry the bacon in the pan first, add the onion, and finally, add the garlic. Fry everything for a moment and pour over the broth. After a while, we add potatoes, which we cook in the soup until tender. In the end, add marjoram and a pinch of fresh, chopped garlic.
Dice the bread and fry it. We add it after pouring the soup on the plates. Remember that in hot water the croutons soak quickly, so don't let the soup wait for too long.
Serving
We put grated cheese on the bottom of the bowl and pour the soups. Add croutons and chopped parsley on top. If you like, you can add a bit of cheese to the top! Bon Appetit! :)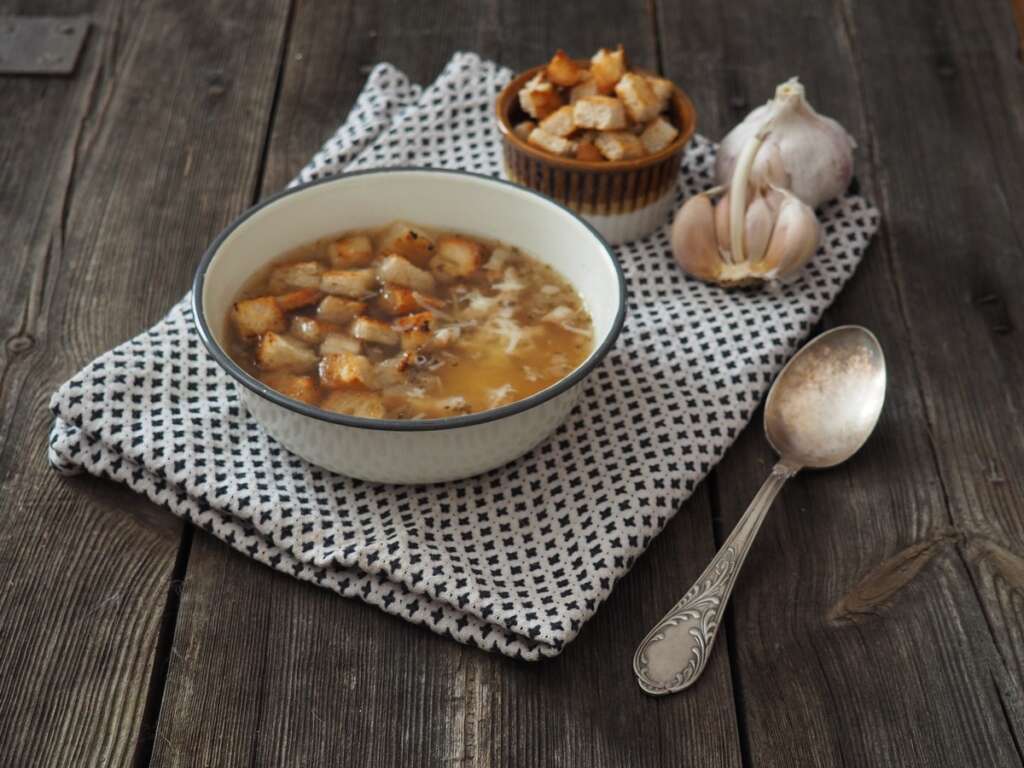 Various other versions: