I ate various tarts in my life. Sometimes they were sweet, and sometimes they contain vegetables. One of my favorites is this one. Sweet and sour in one with a twist of chocolate. Lime tart its a cake that you can forget about the diet for a moment!
Cakes can be really different. Some can be boring and others are not so nice in taste. The lime tart, which I will present to you in a moment, is perfect for me. The inspiration was a tart from Nigella Lawson's book, slightly modified over the years!
Ingredients for the Lime tart
300 g biscuits
100 g butter
can of sweetened condensed milk
4 limes
300 ml cream 30%
1 tablespoon of cocoa
100 g dark chocolate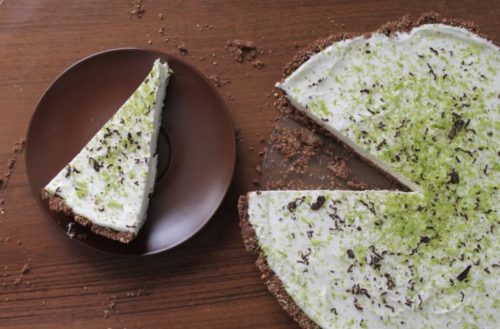 In her recipe, Nigella often put attention to the fact, how important the appropriate temperature of recipe ingredients is. In this case, everything, except milk and cream, should be at "room" temperature. Sour cream and milk should be very well chilled.
Underside
Biscuits (we used whole grains, but they can also be classic) should be mixed with butter, cocoa and half of grated chocolate. We fill the bottom of the form and put it in the fridge (note – to the bottom of the tarts we use only half of the chocolate, the rest will be needed to decorate the top of the cake).
Cream
Mass the limes thoroughly, wash and rub the skin on a fine grater (put the peel in the box and put in the fridge – it will be used to sprinkle the cream, but we do it just before serving). Thoroughly squeeze the juice from all limes. Pour the condensed milk into the bowl, add all the lime juice and mix gently. We start to whip the mass and pour in all the cream. We beat until the cream becomes stiff and thick.
Tart
Take an underside from the fridge. Pour out the mass on it, sprinkle with the rest of the grated chocolate. Cover the cake with the foil and put in the fridge for a few hours, and preferably for the whole night. Before serving, sprinkle with lime peel.
I will not write that the cake is sensational because it just is. If you want to surprise your friends it is a proposition for you. It does not require baking, and the preparation is relatively simple. The effect, however, is at the highest level!