A good dessert can be the perfect summary of a meal, and sometimes it can be perfect alone! I taste a lot during my travels, and I enjoy recreating local dishes from original recipes. Today, a recipe for malabi – an Israeli dessert that you will meet in this country in many places.
Although I do not like the pudding in the form in which we eat it in Poland, I love malabi. I had to prepare it! It is a simple dessert that will be perfect for a snack after dinner, but also for a family event – you can serve it in transparent dishes, which, when combined with syrup and sprinkles, look very nice!
About the dessert
Malabi is a dessert widespread in this region (also called muhallebi or muhallabia). Probably comes from Turkey. Legend has it that it was served for the first time by a Persian cook for Al-Muhallab ibn Abi Sufra. Malabi (under different names and in a slightly different form) can be found in the cuisine of Iraq, Turkey, Egypt, Lebanon and Syria.
It is popular with many Israeli families during the Shavuot festival.
Ingredients
These ingredients are enough for 6-8 servings:
1 liter of milk (I used 3.2%)
8 tablespoons of corn flour
3-4 tablespoons of rose water
250 ml cream (30%)
half a cup of sugar
raspberry syrup
nuts / pistachios / coconut
Recipe for malabi
We start by mixing cornstarch, rose water with a glass of milk. We mix intensively so that there are no lumps. Pour the rest of the milk into a pot to which you also add cream and sugar. Bring to a boil and add the previously mixed ingredients. Cook for 1-2 minutes, the mixture should thicken slightly during this time. Stir vigorously to not burn everything ;)
Pour the ready-made mixture into molds and set aside to cool. Some recipes say to cover them with foil, then a harder layer will not form on the surface. However, it does not interfere with the appearance of the desserts or their taste, so if you don't feel like it, you can give it up. After cooling, put it in the fridge for a few hours.
After it solidifies, in the classic version, it is poured with raspberry syrup and sprinkled with roasted nuts or almonds. You can also use other syrups and sprinkles.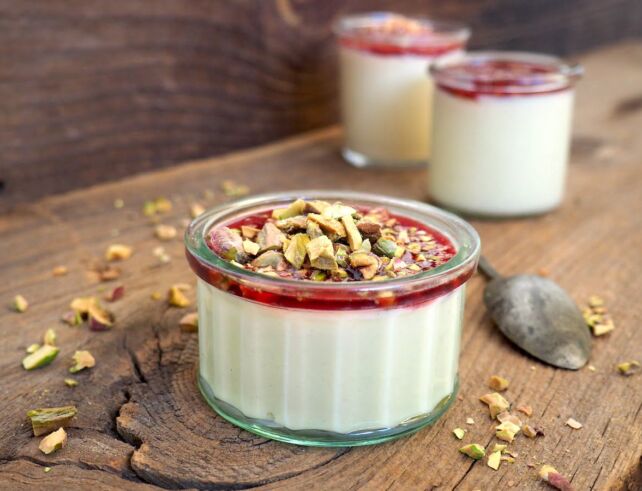 Variations
Malabi can be found in many places all over Israel, and you can also find them in Poland. In addition to the classic version you just read about, you can use a different syrup. I have met those with the addition of cinnamon, salty caramel flavor or a hint of ginger. The same applies to sprinkles. In addition to peanuts or almonds, you can find pistachios or coconut shavings.
If you want something else, you can try to replace rose water with orange water.
If you want to try a good Malabi, go to Malabi World – a place serving these desserts, located near the entrance to the Carmel Market (Tel Aviv).