Bordeaux has never been at the top of my list of places to visit. Cheap flights, however, can motivate you to discover unexpected locations. Weekend in Bordeaux is a very good idea, and will describe it in a moment.
I spent four days traveling, but I had a full two to explore the city and the surrounding area (I arrived on the first day around 11 PM and had a departure on the fourth day at 6 AM). Is this enough time to visit everything? Definitely not! I think one extra day would definitely be useful!
My visit took place at the end of November. The weather in Bordeaux was better than in Poland. The temperatures at night were close to zero degrees C, and during the day they were around 8. During two days it was raining for about 2 hours, and the rest of the stay was spent in changing aura – clouds and sun alternately.
Location and access
Bordeaux is a city located in southern France in the New Aquitaine region. It is located less than 600 kilometers from Paris, and 220 kilometers from the Spanish border. The city is situated on the Garona River and you can reach it by car, train and plane (Bordeaux-Mérignac airport). I chose the last option using the Ryanair connection from Krakow.
History of Bordeaux
The history of the city dates back to antiquity. It was originally a Roman Celtic city known as Burdigala. Over the years it has changed owners. It was in the hands of the bishopric, Visigoths or the Franks, and during both World Wars it was the seat of the provisional government of France. Throughout the city, you will find traces from various historical periods. One of the most interesting and oldest is the amphitheater from Roman times.
Bordeaux today – my impressions
I surely know that it was not enough time (two full days on the spot), but enough to make me like the city. Beautiful old town, UNESCO World Heritage Site, Cite du Vin – City of Wine – an interesting and impressive center where you can learn all about this drink, or delicious local oysters and local pastries are just some of the reasons why the city is worth visiting .
Bordeaux is a city that made a great impression on me. The architecture and the entire center, built of white local stone, looks amazing. It was beautiful, both during the day and at night. Everyone will find something for themselves there, and the specific atmosphere will make you want to come back there!
Bordeaux is a culturally diverse city, but thanks to it, it is vibrant with life. Walking through its streets, you will find a local Canele, a Turkish cafe or an Asian bar – this creates a unique atmosphere.
Accommodation and transportation
In Bordeaux you can choose from a huge number of hotels, hostels and apartments. The vineyards located outside the city also have an interesting offer. You can stay overnight in many of them. My choice for a stay in Bordeaux was the Hotel Ibis Budget Aeroport. It is located by the airport and the bus journey to the center takes about 50 minutes, but … My plane landed in Bordeaux at 11pm and my return flight was at 6am. I have come to the conclusion that this will be the best solution for my own convenience. My trip plan was to visit the whole day, so around 7 o'clock I left the hotel and returned to it late in the evening.
I will not write too long about the hotel itself. Ibis Budget is part of the global Accor hotel chain and the standard is relatively stable there. It doesn't have super comfortable rooms, but it has wi-fi, a shower, a comfy bed and that's all for me. I paid about PLN 500 for 3 nights without breakfast.
During my stay in this city, I used to take the bus the most often, trams were in second place, and for suburban trips, the train worked perfectly! Public transport is "bound" into one system – Transports Bordeaux Métropole. The same tickets are valid for all kinds of transport.
Tickets are contactless. These tickets can be recharged (up to 10 journeys). One ticket costs 1.7 Euro and entitles you to an hour's ride with any kind of public transport (time is counted from the first validation). As part of this ticket, we can change trains, each time remembering to "validate" the ticket. We save money by buying more tickets. For two, we pay 3 Euro (1.5 Euro for the ticket), and for ten, 13.70 Euro (1.37 Euro for the ticket).
When you buy a Bordeaux CityPass, you have public transport included in the price, no limit. Importantly, this card also entitles you to free admission to museums and some attractions – it is a nice product for tourists!
UNESCO
Big part of the "old town" of Bordeaux is on the UNESCO World Heritage List. Information about this fact can be found in many places in the city. It has been put on the list to honor the city's unique cultural heritage and architecture. The prestigious list includes 1,810 hectares, which is almost half of the city's area. You will find almost 350 valuable objects there!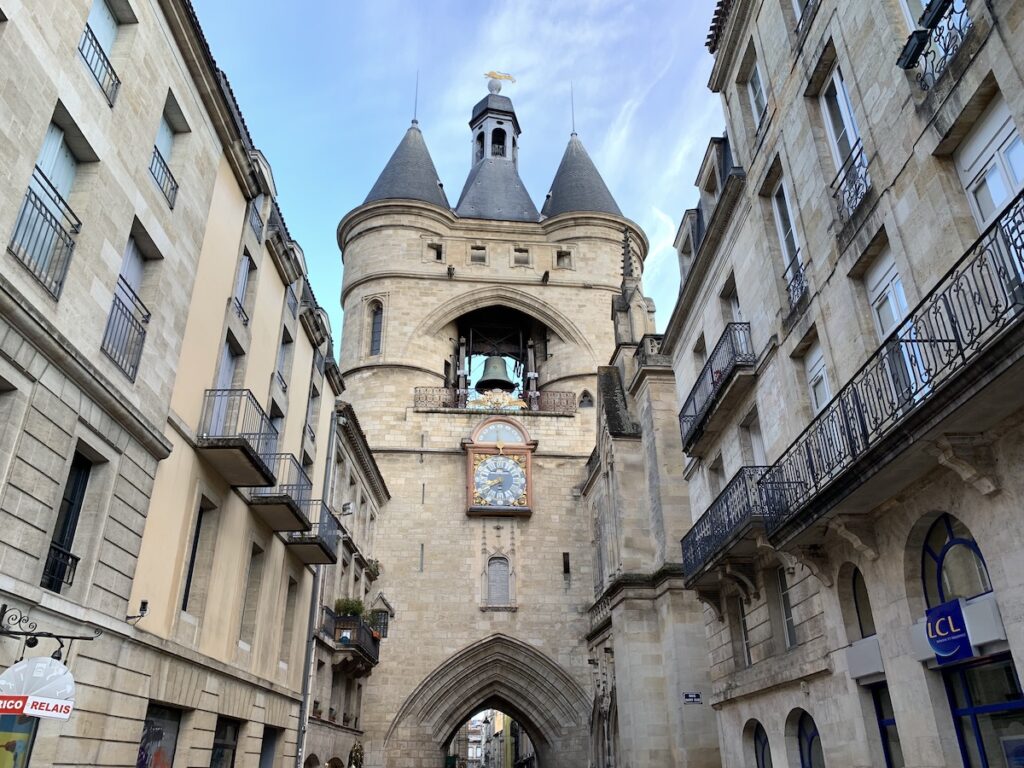 What's worth seeing during weekend in Bordeaux?
It all depends on how much time you have. I think that you can easily find attractions in the city and its surroundings for at least a week of sightseeing. I have for you what I was able to see during my two days in the city. I have certainly neglected the subject of museums, and heard that some of them are worth visiting. Unfortunately, one of the days of my stay was Monday, and on that day most facilities are closed.
Old city
As I wrote to you, the center of Bordeaux is inscribed on the UNESCO World Heritage List. This should be reason enough for you to visit them. What did I like the most there? Of course, the architecture – churches and tenement houses make a great impression on visitors, the narrow streets intersected with small squares, with restaurant and cafe gardens waiting for us, are also delightful.
All the houses in the center are built of white stone, which gives the buildings a uniform style, despite the fact that they are often completely different from each other. While walking around the old town, it is worth getting lost and wandering the streets that will lead us to interesting, unexpected places.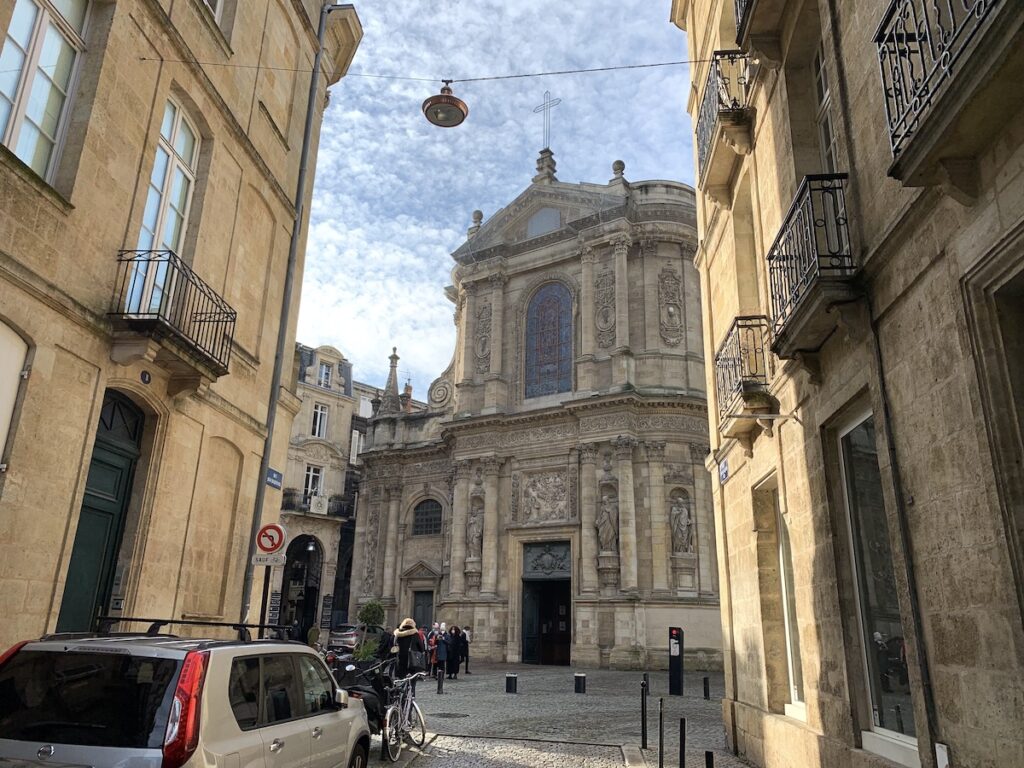 A walk over the Garona
The Garona River divides Bordeaux into two parts. Most of the monuments and attractions are located on the left bank of the river. Along the river there is a beautiful promenade that is teeming with life. There you will find joggers, walkers and cyclists – a perfect place for everyday activities.
While walking by the water, you can even get to the Cite du Vin, which will be discussed in a moment. It is also worth going to the right bank of the river (using one of the bridges or the water tram) to admire the panorama of the city from opposite site.
There are several bridges on the river itself, but two are worth paying special attention to. The first (first photo) is the Jacques Chaban-Delmas drawbridge. It is 575 meters long and 77 meters high. Its central part rises to allow ships to pass. It is the largest movable bridge in Europe
The second interesting bridge is the Stone Bridge (Pont de Pierre) in the third photo. This one is 487 meters long and was built in 1822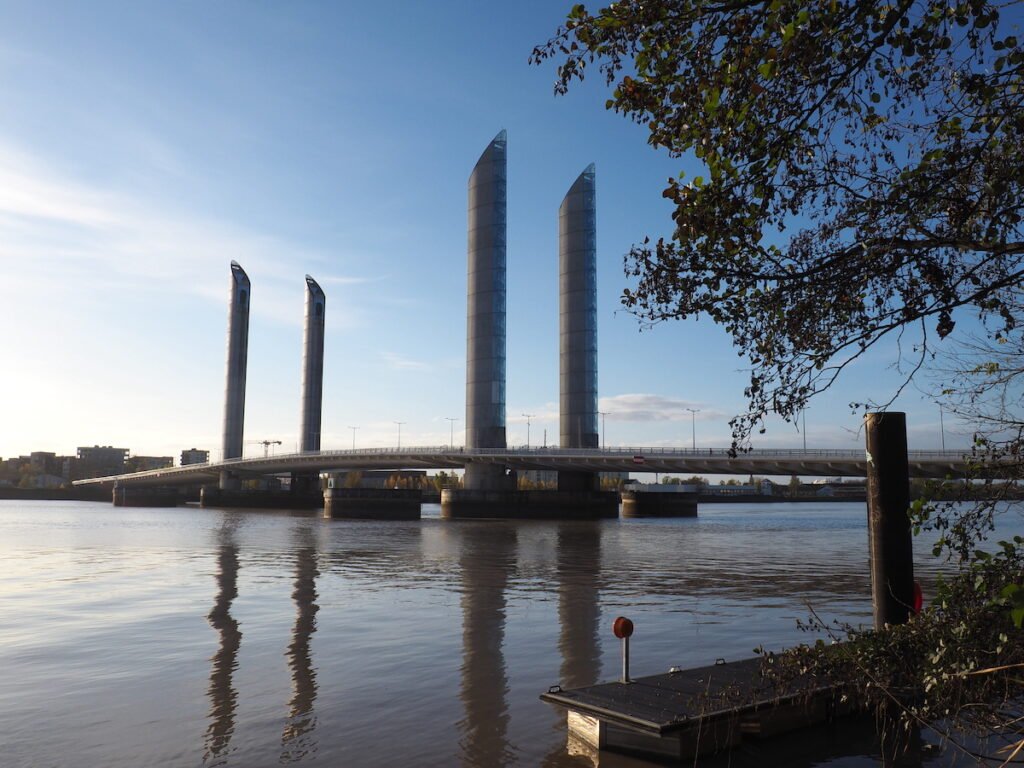 Cite du Vin
I can assume that hearing about Bordeaux one of the first associations will be wine! No wonder, because this region is considered the world capital of this drink. This is where the best wines in the world come from. There is a place in Bordeaux where you can learn everything about wine in an interesting form – Cite du Vin.
You could say it is a wine museum, but it is not. There are no exhibits, old bottles and pieces of barrels. Cite du Vin is more like a Wine Center. Just as the Science Center has various positions, where we learn the principles of operation through experiments and boards, in Cite du Vin you will learn about the different stages of wine production, its history, but also the elements that make wine what it is – taste, smell, texture and more!
The exhibition in Cite du Vin is open to the public. You should reserve about 2-3 hours to visit it. At the entrance you will get an Audioguide that will tell you about each element of the exhibition in the language of your choice (of those available). There is no Polish, but English has worked very well in my case.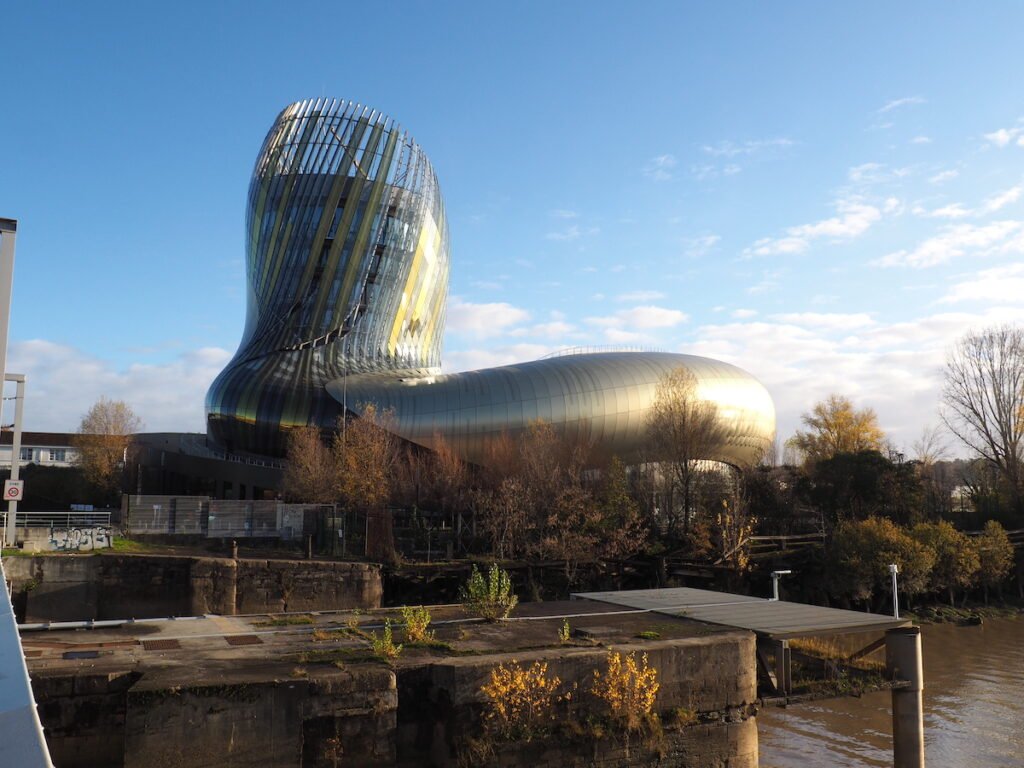 Marche des Capucins
It is the largest permanent market in Bordeaux. It has about 80 stands located both inside and outside the hall. Apparently, the first market in this place took place in 1749, and a hundred years later a roof was built. The market is open every day, except Mondays from 5.30 to 14.00. Hours may seem strange, but believe me, even on a Sunday at 7am, you will find customers there.
What can you buy at the market? It is not an ordinary bazaar. In addition to regional products such as seafood, cold cuts, cheese, flowers, vegetables and fruit, there are also restaurants and cafes on the market. Apparently, on Saturdays and Sundays, arriving after 11.00 without a table reservation, the chances of consumption are very low.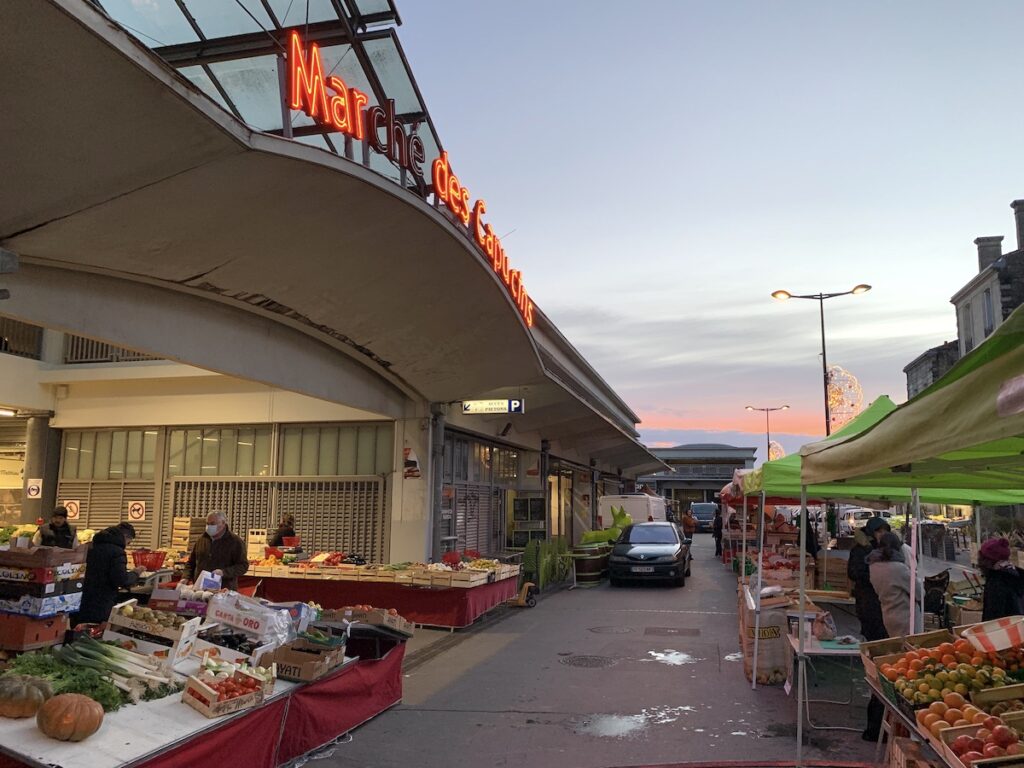 Palace Gallien – roman amfitheatre
Where did the Roman amphitheater on the French coast come from? As I wrote, Bordeaux was originally a Roman city. The amphitheater was probably built in the 2nd century AD and could accommodate 22,000 people. Today only ruins remain. As you walk by, it's not hard to notice them. You can view them from two sides, and despite their small size today, they are impressive with the scale of the object in the past. The ruins are fenced in and can be viewed from a distance. There are no admission tickets.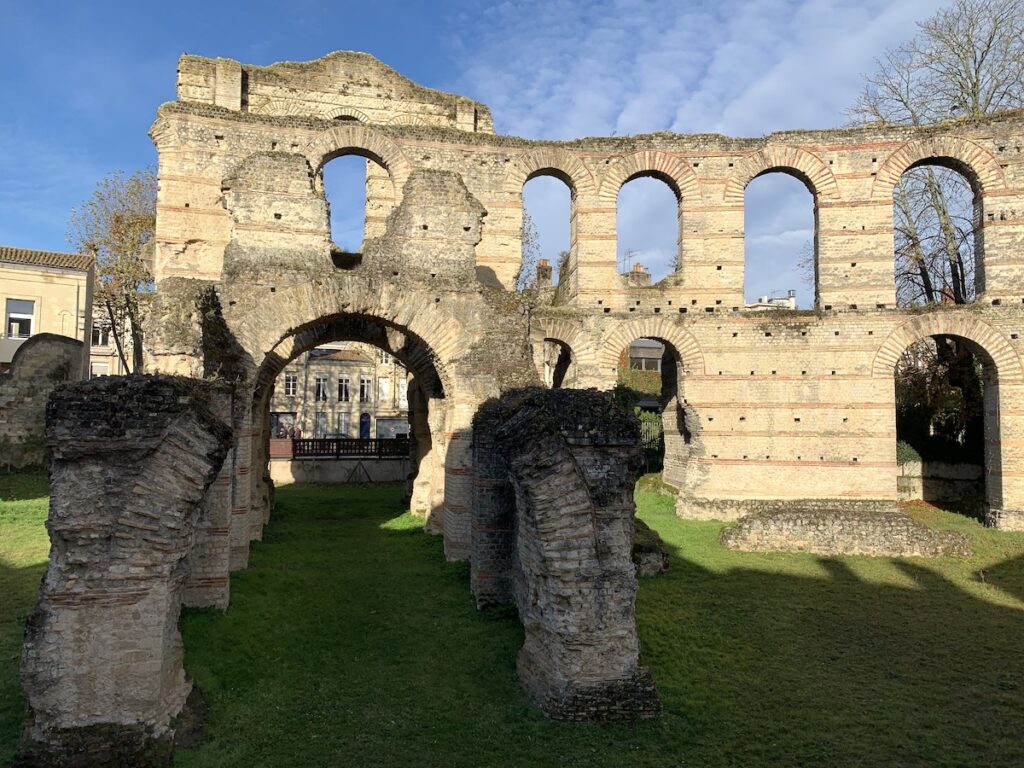 Pey Berland
Pey Berland was the Archbishop of Bordeaux, who lived at the turn of the 14th and 15th centuries. It was on his initiative that the tower located next to the cathedral was built. Its construction ended in 1550 and in my opinion it is today one of the best viewpoints in Bordeaux.
The tower was supposed to be a belfry (separate from the cathedral so that the bells would not transmit vibrations to it), but at the beginning there was not enough money to equip it with bells. These appeared only in 1851.
Today it is open to tourists who, after climbing 230 steps, can admire the beautiful panorama of the city. If you are afraid of heights, experiences will be guaranteed for you. Remember that the stairs are quite narrow and entering them with a large sling, for example, may not be easy. The door leading to the platform at the top is also narrow, I had to take off my backpack to fit in it :)
Tickets for the towers cost 6 Euro, but when you use the Bordeaux CityPass, they are included in the price of the card. We book a ticket online by selecting a specific time of entry.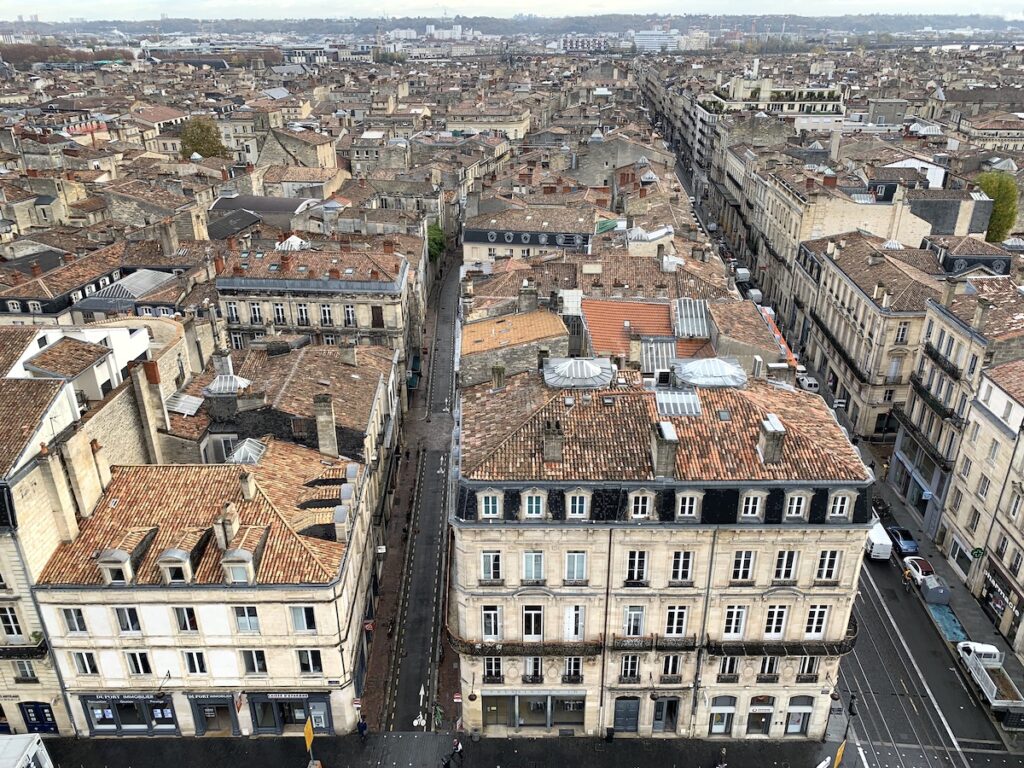 Bordeaux cathedral
It is said to be the most beautiful church in town! It certainly makes a great impression. I couldn't get in, somehow I was always around when it was closed. Actually, it is the Primate's Cathedral of St. st. Andrew the Apostle and was established in 1096, but its present appearance comes from the fourteenth century.
On Sunday, there was an antiques market there, where you could buy a variety of more and less interesting items.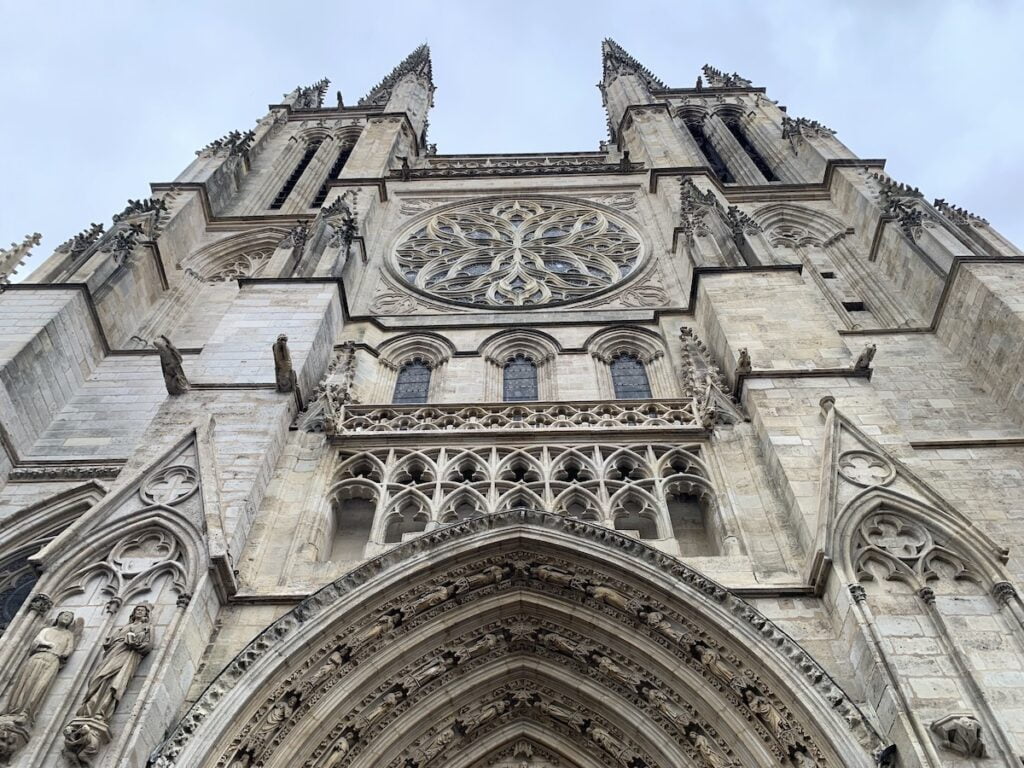 What to try during weekend in Bordeaux?
Caneles is one of the most characteristic products from Bordeaux. Originally, it was probably bread / dough made of flour and yolks, and it was not until the 20th century that an unknown confectioner added vanilla and rum to it and popularized caneles again. They probably got their name from their undulating form. The name was popularized only in the eighties of the twentieth century, when these pastries began to experience their renaissance.
The number of stores where you can buy them is counted in the thousands and they are not only in Bordeaux, but all over France and abroad! You may encounter the spelling cannele from time to time, but this is not a mistake.
I will not mention wine because it is obvious that you have to try it, and there is a lot to choose from! However, it is worth mentioning the seafood that you will find in Bordeaux at every turn. The best oysters in France come from Arcachon Bay and I recommend them too! After many recommendations, I went to the La Cabane Cent Un restaurant.
I can tell you that Too Good To Go works very well in Bordeaux. It is an application where you can collect food products that are not sold on a given day for 1/3 of their value. I used it a few times and was very pleased!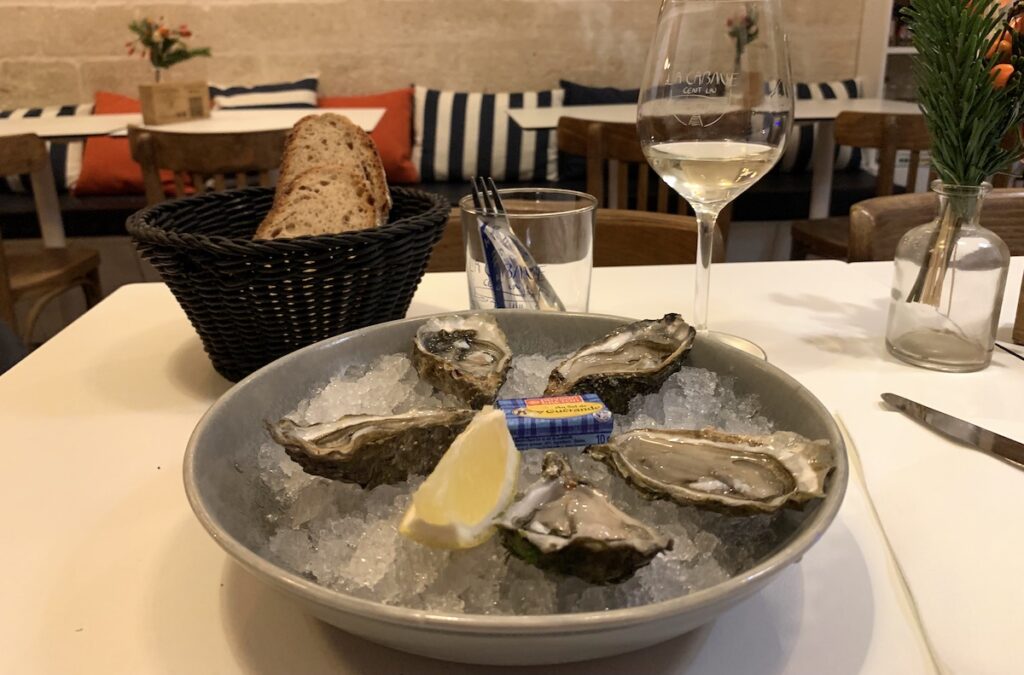 What's in the neighborhood?
The area around Bordeaux is full of interesting places. I was able to visit only two, but I already know that next time the list will be much longer! During the weekend in Bordeaux try to plan some trip around.
Arcachon
One of the places I visited was Arcachon. It is a seaside resort that experiences a real siege during the summer months. At the turn of November and December there weren't many people there. Being there, I walked on the beach and looked at the interesting buildings.
One of the goals of the visit to Arcachon was a visit to the nearby Pilat dune. It is the largest dune in Europe, and from its top there is a beautiful view of the area, but … I got to Arcachon on Sunday, but on this day buses to the dune do not run and you can not get on it! Taught by my experience, plan your visit on another day, because it's supposed to be worth it :)
Vineyards
Bordeaux is known worldwide for its vineyards. Various companies offer vineyard tours, and I decided to pick one of them and took public transport. The choice fell on Chateau Sant Ahon, which is located in the Medoc wine region. It was a very successful visit full of passion and good wine, combined with a tour of the vineyard.
Bordeaux by night
Due to the fact that I had little time there, I walked around the city a lot after dark! This makes Bordeaux even more colorful! Many of the buildings have illuminations that fit perfectly with the style of the entire center. It doesn't matter if you fancy a stroll along narrow streets or the boulevard above Girona, you will surely be impressed after dark!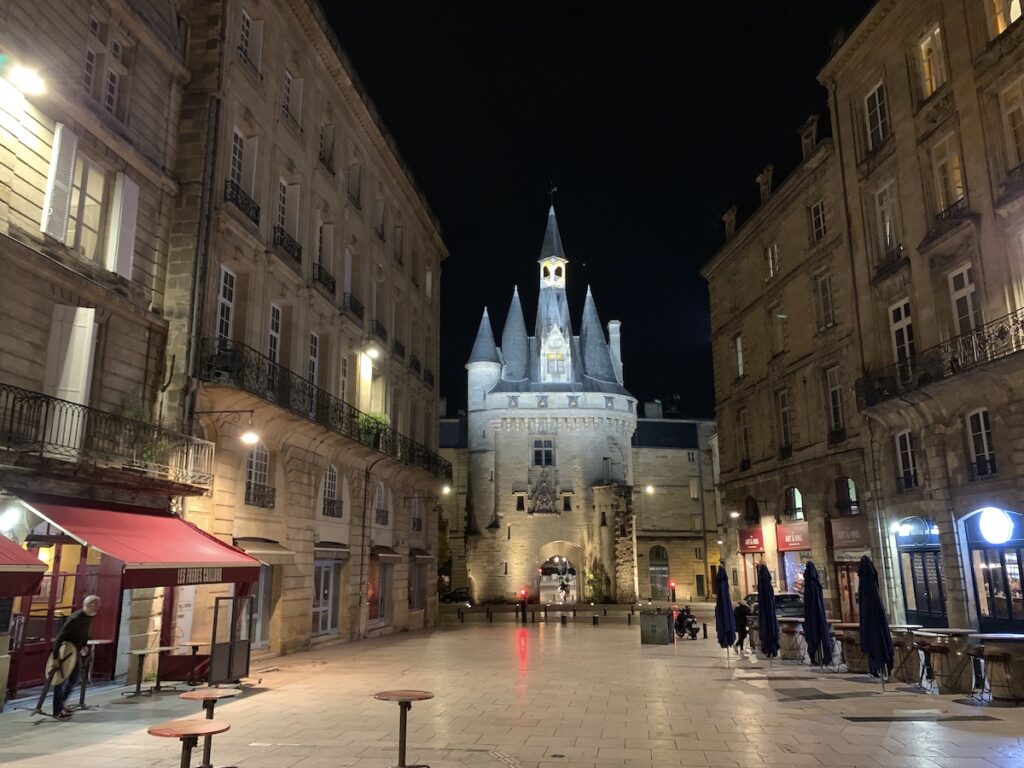 Weekend in Bordeaux – costs
I will try to summarize for you the costs of weekend in Bordeaux I incurred in connection with the trip, so that you can plan yours more easily :)
Flight Krakow – Bordeaux – Krakow (Ryanair with two hand luggage) – PLN 121
Ibis Budget Airport hotel (three nights without breakfast) – 107 Euro
Oysters and a glass of wine – around 12 Euro
Orange juice in a supermarket – about 1-1.5 Euro
Bordeaux CityPass for 48h – 39 Euro
Canele – 0.7 – 1.8 Euro
Local wine in the airport duty free shop – around 10 Euro