I am almost sure that first idea about Bordeaux in Your mind will be wine! No wonder, because this region is considered the world capital of this drink. This is where the best wines in the world come from. There is a place in Bordeaux where you can learn everything about wine in an interesting form – Cite du Vin.
You could say it is a wine museum, but it is not. There are no exhibits, old bottles and pieces of barrels. Cite du Vin is more like a Wine Center. Just as the Science Center has various positions, where we learn the principles of operation through experiments and boards, in Cite du Vin you will learn about the different stages of wine production, its history, but also the elements that make wine what it is – taste, smell, texture and more!
The facility was built in 2016 and immediately became a very popular place among tourists and residents!
Cite du Vin – location and transport
Cite du Vin is located north of the old town. You will definitely not miss the modern shape of the building because it is very characteristic. The address you need to go to is 134 Quai de Bacalan, 33300 Bordeaux, France.
You can get here by tram line B (runs every few minutes during the day) towards Berges de la Garonne and get off at the "La Cité du Vin" stop. You can also come on foot (the walk will take you about half an hour – 2.6 kilometers) or take the water tram on the Garona River.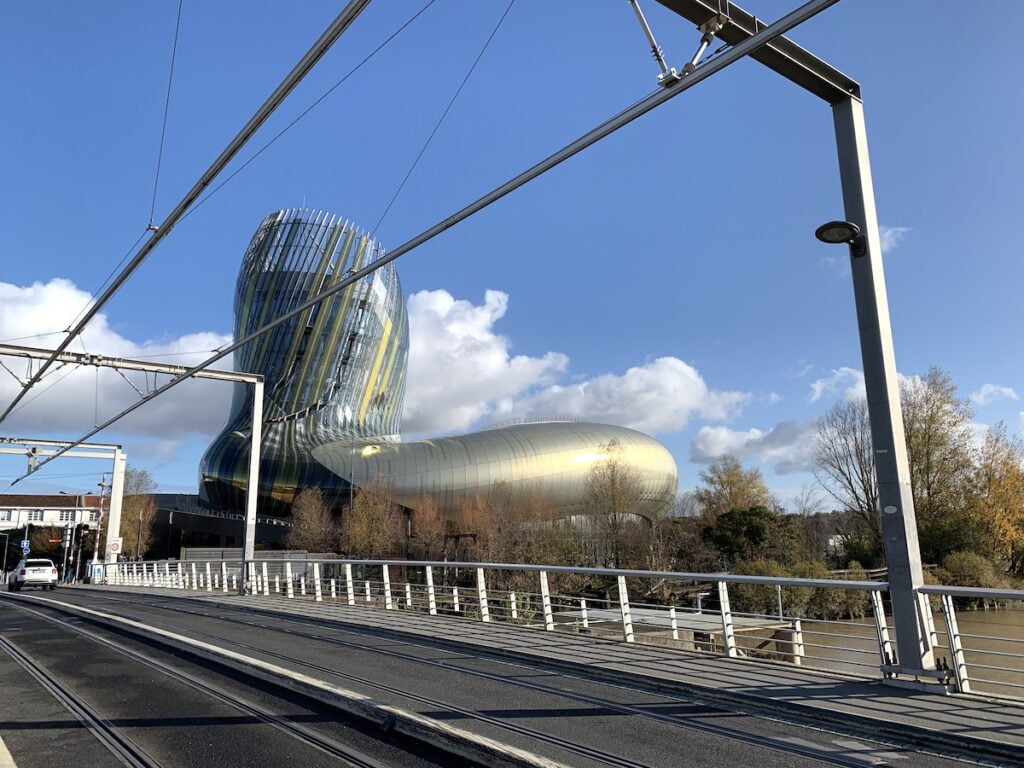 Cite du Vin – opening hours
Different parts of the Cite du Vin are open at different times. You should be most interested in the exhibition and tasting part. The exhibitions are open from August 30 to December 31, daily from 10:00 to 18:00 on weekdays and until 19:00 on weekends and school holidays. From January 1, 2022 to April 1, 2022, it is open daily from 10:00 to 18:00 (closed on Mondays in January).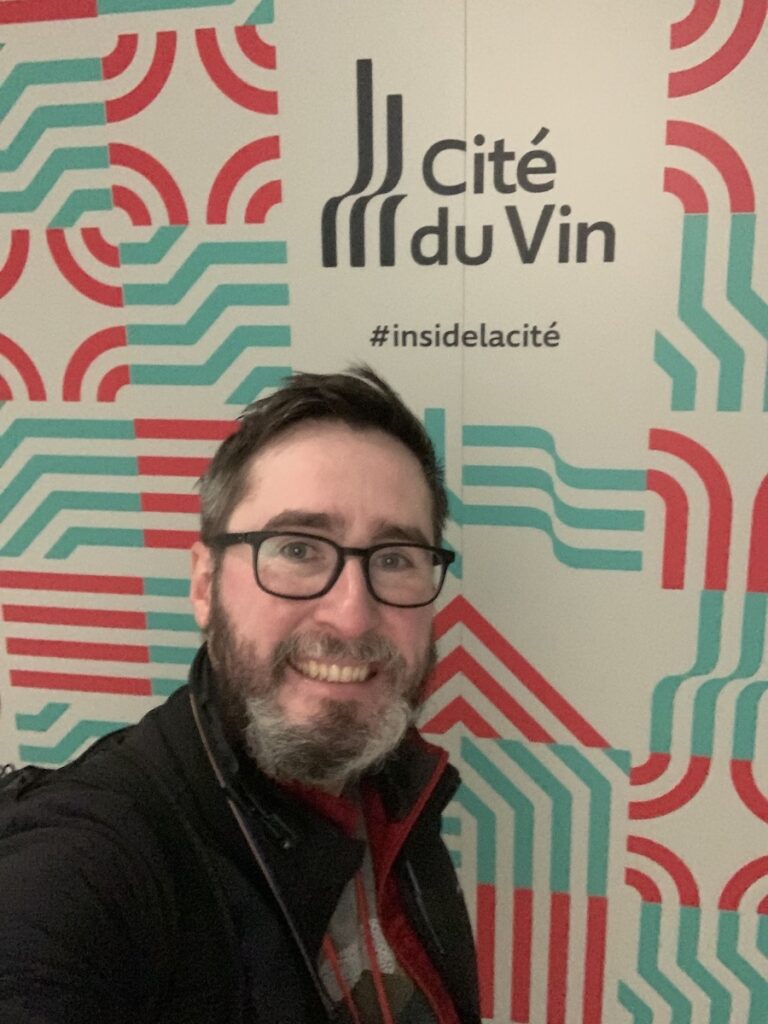 Tickets and sightseeing
A ticket to the permanent exhibition with a glass of wine in Belvédère costs € 20 for adults and € 9 for minors. It is a ticket for a specific day. If you want an open ticket, the price for it will be 24 and 14 €. Going to Cite du Vin with family (maximum 2 adults and 2 children) you can use the family ticket for 50 €. There are also temporary exhibitions and various workshops for visiting.
If during your stay in Bordeaux you plan to buy the Bordeaux CityPass – a city card that gives you free city transport and admission to many places, then Cite du Vin is also on the free admission list. However, it is important to be before 12.00 – then the tasting in Belvédère is also included.
You should plan around 2-3 hours to visit the Cite du Vin, do not forget to have a glass of wine on the Belvédère terrace.
Exposition
The exhibition in Cite du Vin is open to the public (you can easily manage it with a pram). You should reserve about 2-3 hours to visit it. At the entrance you will get an Audioguide that will tell you about each element of the exhibition in the language of your choice (of those available). There is no Polish, but English has worked very well in my case.
We start our tour from the aerial section devoted to vineyards, where we can see different vineyards on the screens and learn about them. The next areas are those devoted to viticulture around the globe, winemakers and cultivation. Information on grape species and the elements necessary for its production cannot be omitted. Then we get to know the history of wine. We travel through the ages learning a variety of interesting stories related to this drink. It played a very important role in the history of the world and you will learn about it in this part of the exhibition.
One of the most interesting parts for me is the Five Senses Buffet. In a small space, you can move into a completely different world there. You don't need to be a specialist to taste wine. Just activate your senses. On two tables (one for white wines and the other for red wines) we have the opportunity to smell various objects that evoke various memories, associations and emotions, get to know the colors of the wine and its texts.
In addition, the exhibition offers you virtual (recorded) conversations with experts from the world of wine and a section devoted to Bordeaux wines, their history and the present.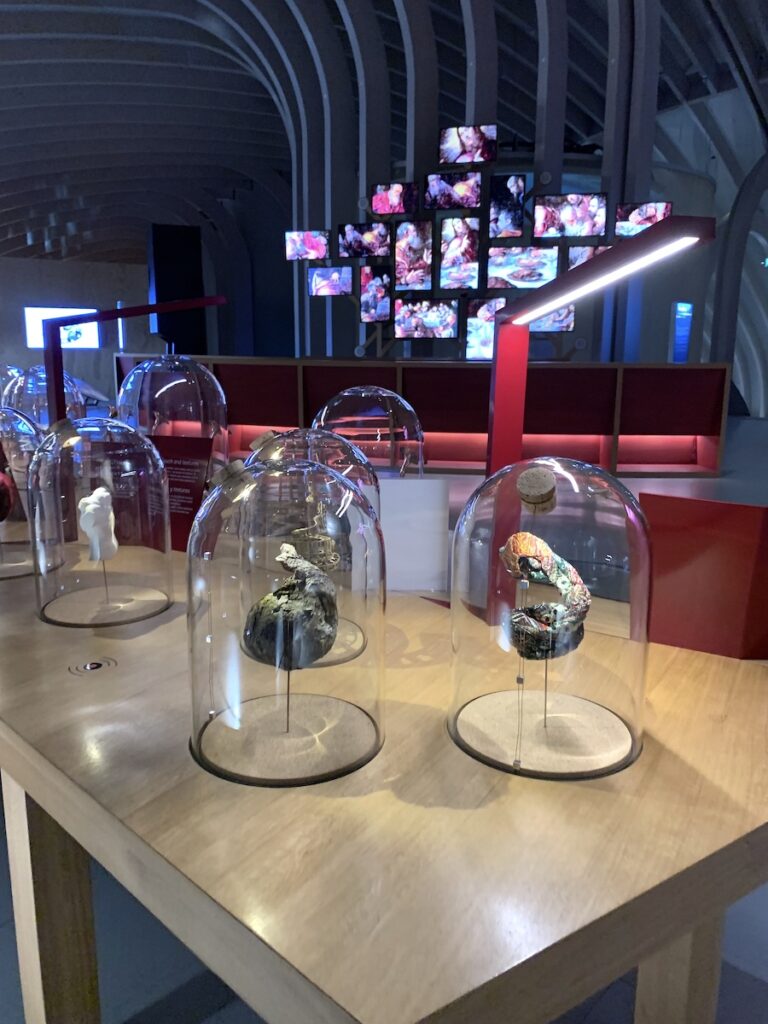 Belvédère – degustation with nice view
At the end of your visit to the exhibition at the Cite du Vin, a trip to Belvédère is worthwhile. It is a room located on the 8th floor – 35 meters above the ground, with a beautiful view of the surrounding area. As part of the ticket, we can choose one of several wines to taste. We can choose from local wines, but also from other parts of France and the world. Of course, I chose a local drink! The youngest ones will be treated to delicious grape juice
You can also drink your wine outside. The last level is surrounded by a "sidewalk" outside, from which we can admire the Garona River, Bordeaux and the port buildings.
You can take the elevator to the top to Belvédère. Be sure to pay attention to the ceiling with thousands of bottles!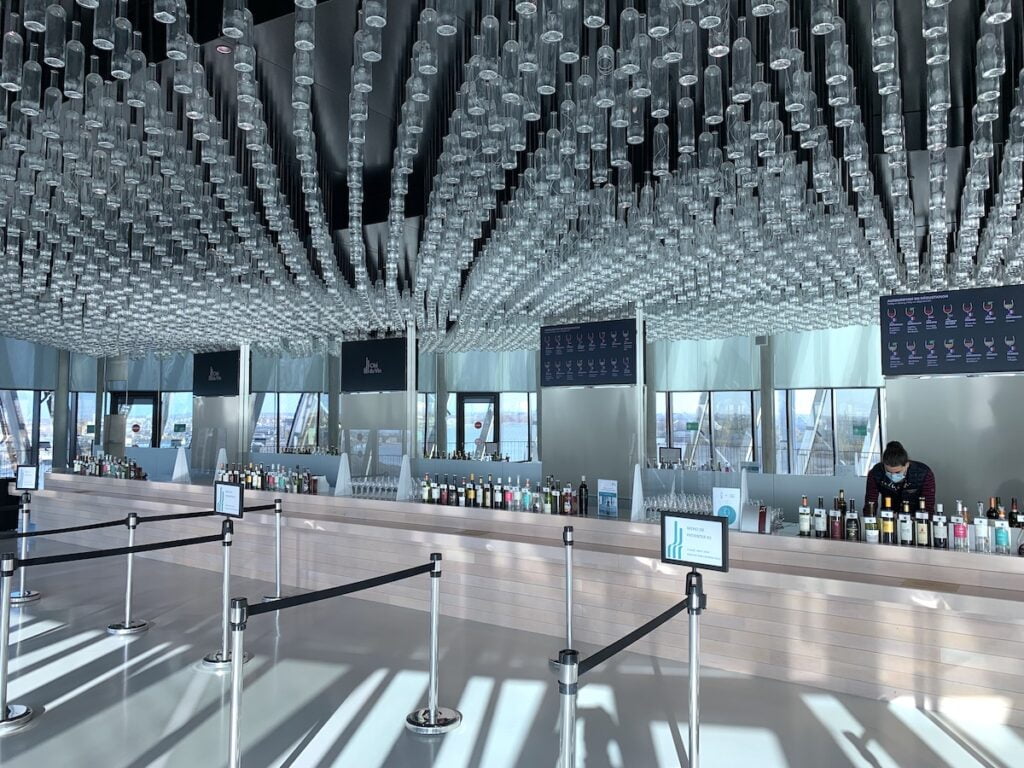 Worth a visit?
Cite du Vin is the first place to visit for me before I even flew to Bordeaux. The site visit only confirmed this fact. Be sure to plan a visit to the Cite du Vin, and after it you will definitely look at the wine, its aromas, flavors and history differently.
Wine is an integral part of local culture and cuisine. Walking around the city you will pass wine shops, riding a train vineyards, and going to dinner a glass of wine will be something natural. It is worth learning and cultivating local traditions, and wine in Bordeaux is a must! 🙂
Shop
Right next to the ticket office you will also find an impressive wine shop! It's Latitute20 – a wine cellar from around the world! There are drinks available from over 70 countries! Apparently, there are about 14,000 bottles of wine available in the store!
On site you will also find the "La Cité du Vin Boutique" shop, v. which you will find a huge amount of souvenirs and articles related to winemaking. Accessories, books, clothing games and much, much more are waiting for you!