How to find a good place in a new and unknown place, where we can eat interesting dishes at a fair price? In Bordeaux I asked the locals who recommended La Cabane Cent Un to me, and after the visit, I would recommend it too!
Location
La Cabane Cent Un is located at Rue Rode 7. You can get there on foot (several minutes walk from Quinconces) or take the C tram and get off at the Paul Doumer stop. The restaurant is located in the square, right next to Halle des Chartrons.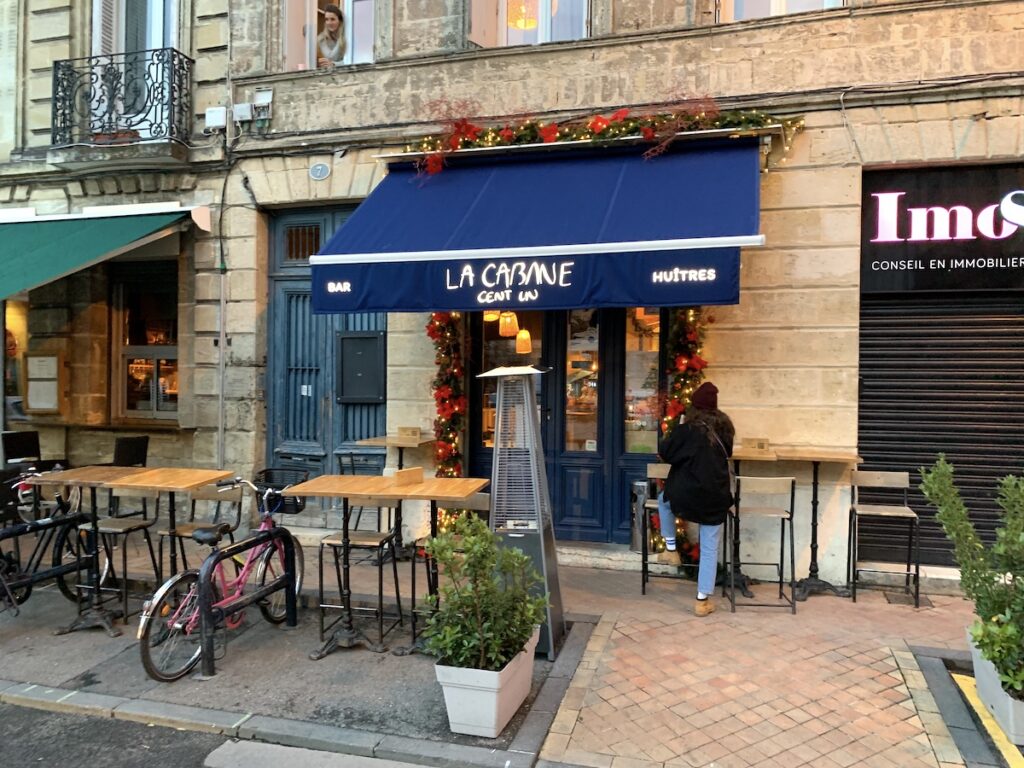 Menu
The menu is relatively short and is based on seafood and local products. In addition to the aforementioned oysters, you will find shrimps, langoustines, monkfish liver, crabs, other fish, but also various types of ceviche, poke bowl fish soup, burger, seafood sets and alcohol.
Sets are an interesting option:
L'ASSIETTE DE CAPUCINE – 18 €
6 Cap Ferret oysters
6 pink prawns
Snails with thyme
L'ASSIETTE DE MON GRAND-PÈRE – 40 €
12 Cap Ferret oysters
6 pink prawns
Snails with thyme
My grandma's terrine
Little Dada by Rouillac 2019 HVE bottle, Bordeaux
L'ASSIETTE D'AGATHE – 21 €
6 Cap Ferret oysters
6 pink prawns
My grandma's terrine (90g)
L'ASSIETTE DE CARO – 62 €
12 Cap Ferret oyster
6 pink prawns
6 crawfish
Sea snails
Coastlines
Grandma's pate (90g)
Oysters
The city of Arcachon, not far from Bordeaux, is famous in France for its oysters. Some say they are the best oysters in the whole country. I chose this place because the oysters come from a farm that has the same owners as the bar. It is a guarantee of freshness and high-quality raw material. The restaurant was opened on March 21, 2019 and was part of the family business.
As for the oysters themselves, they grow on special farms where they are susceptible to tides and grow. They are grown in special nets. Depending on the size, they have different numbers, which also affect the price. They have an average of about 30 to 150 grams (however, there are species weighing more than a kilogram).
The menu includes oysters in size 4 and 3. The size scale covers numbers from 0 to 5 (5 are the smallest oysters). When choosing oysters to eat "at once", sizes 3 and 4 are the best. The larger ones are often used as an ingredient in another dish or cut into smaller pieces.
At La Cabane Cent Un for size 4 oysters we will pay 10 Euro for 6 and 15 Euro for 12, and for size 3 11 Euro for 6 and 20 Euro for 12.
It is worth knowing that Happy Hours is valid from Monday to Friday from 18.00-19.00. Then all oysters cost 1 Euro.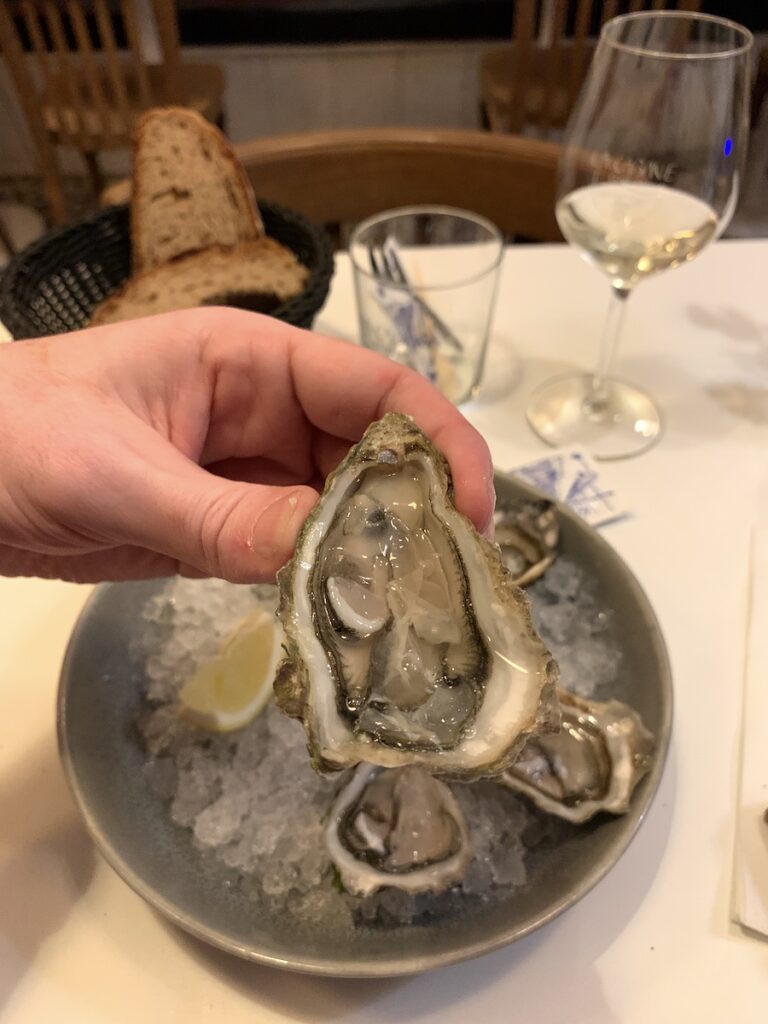 What else have I tried?
The menu is not long and apart from the base of oysters and wine, it also contains a few more elements. I tried delicious ceviche. Coriander, pomegranate and mandarins made a perfect whole with the fish!
I love ceviche and I like to try it when I have the opportunity, and one of the successes of the perfect ceviche is fresh fish, and that's what it was!
If, like me, you like ceviche, or maybe you've never had the opportunity to try cold-cooked fish, then be sure to check out my recipe – Ceviche with cod or Ceviche with pineapple and pistachios.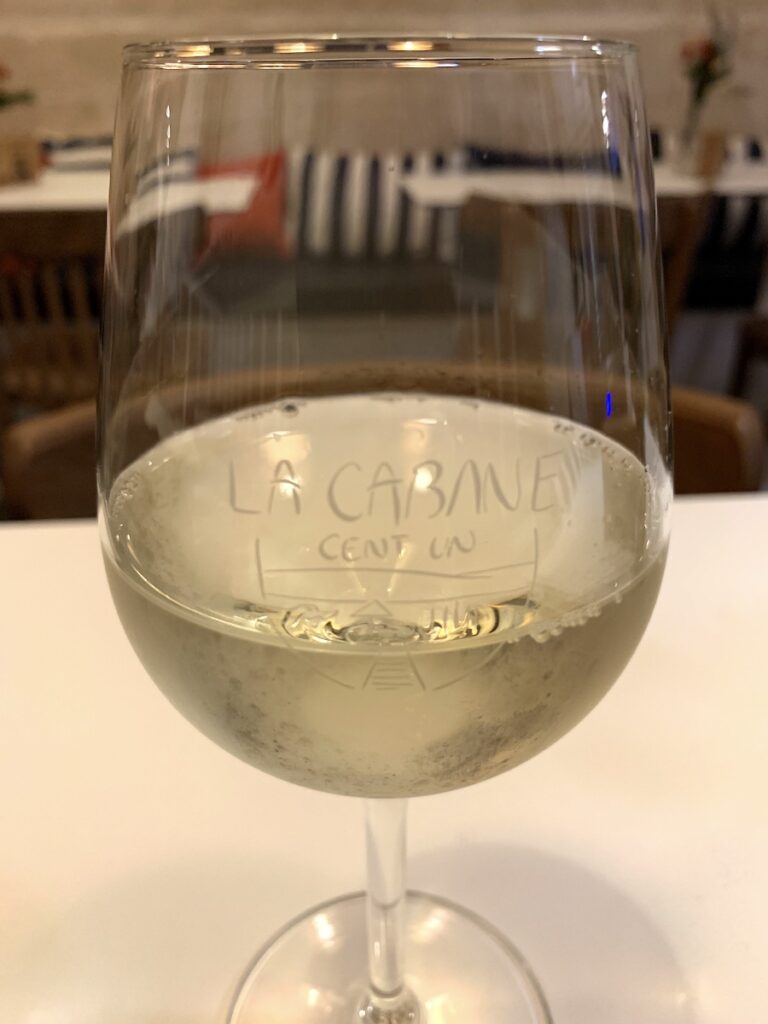 Worth a visit?
La Cabane Cent Un is a place with a soul. Interesting history, good quality product, nice location and interesting flavors are a guarantee of a pleasant evening! It's not a big place but it has a nice atmosphere and it's definitely worth a visit.