Bydgoszcz surprised us in many ways. Only positive of course! We were also surprised by this unique museum. We've been to very different museums before. Among them were those typically historical or related to the region, and still, others were devoted to nature. We always try to find original museums, such as the Potty Museum in Prague or the Living Museum of Obwarzanek in Krakow. They have never let us down before. This time we visited a different and unique facility – the Museum of Soap and the History of Dirt in Bydgoszcz!
It is not a normal museum, although it has guides, exhibitions and exhibits, both general and related to the theme of the exhibition and local references to soap and its production. It is a very interesting place and an ideal proposition for the whole family – the younger ones will learn interesting facts about washing (or not washing!) Over the centuries, and the older ones … it may happen that they will go back to their childhood or youth for a while, watching the exhibits which they may know from their own bathrooms from years ago :)
Location
The Museum of Soap and the History of Dirt are located in Bydgoszcz (Kuyavian-Pomeranian Voivodeship). Długa 13-17 street. It is located very close to Old Market Square. It is best to reach it on foot, but I recommend the multi-storey car park at Jana Kazimierza 6 street if you are going by car. In the streets around the museum is almost impossible to park, and traffic is difficult due to the nearby Brda River.
After crossing the river, we have to make up a lot to come back to the next bridge. Plan where to park before you set off – we know it will be better from our own experience – unfortunately we did not arrive at the agreed time, but thanks to the kindness of the employees of the Museum of Soap and the History of Dirt, we were fortunate enough to miss anything :)
Opening hours and tickets
Tickets to the Museum of Soap and the History of Dirt can be very conveniently purchased via the Internet, choosing the hour of the visit that interests us. The facility is open all week from 10.00 to 18.00, so you have a lot of options.
The museum is free for children up to 3 years old. An individual ticket, regardless of age, costs PLN 20. You can also use a group ticket (over 10 people) for PLN 17 per person or a family ticket for 4-5 people, including one child up to 18 years of age. Such a ticket costs PLN 70.
Plan about 1 hour for your visit. Before or after seeing the exhibition, you may also need a moment in the shop there. In addition to cosmetics and bath accessories, you will also find a very interesting exhibition – a collection of soaps from hotels from all regions of the USA, which the museum received from an American businessman.
Workshop
We start our visit to the Museum of Soap and the History of Dirt with a Soap Workshop. It makes sense because the soaps prepared by us must cool down and set so that after visiting the exhibition, take them home with you :)
During the workshop, one of the leaders reads the ancient recipe for soap preparation, and the participants follow its steps. We can choose from various dyes, fragrance oils, interesting shapes of moulds and additives (coffee, shells, lavender and oatmeal). After preparing the cosmetics, we go to the beginning of the exhibition and start sightseeing.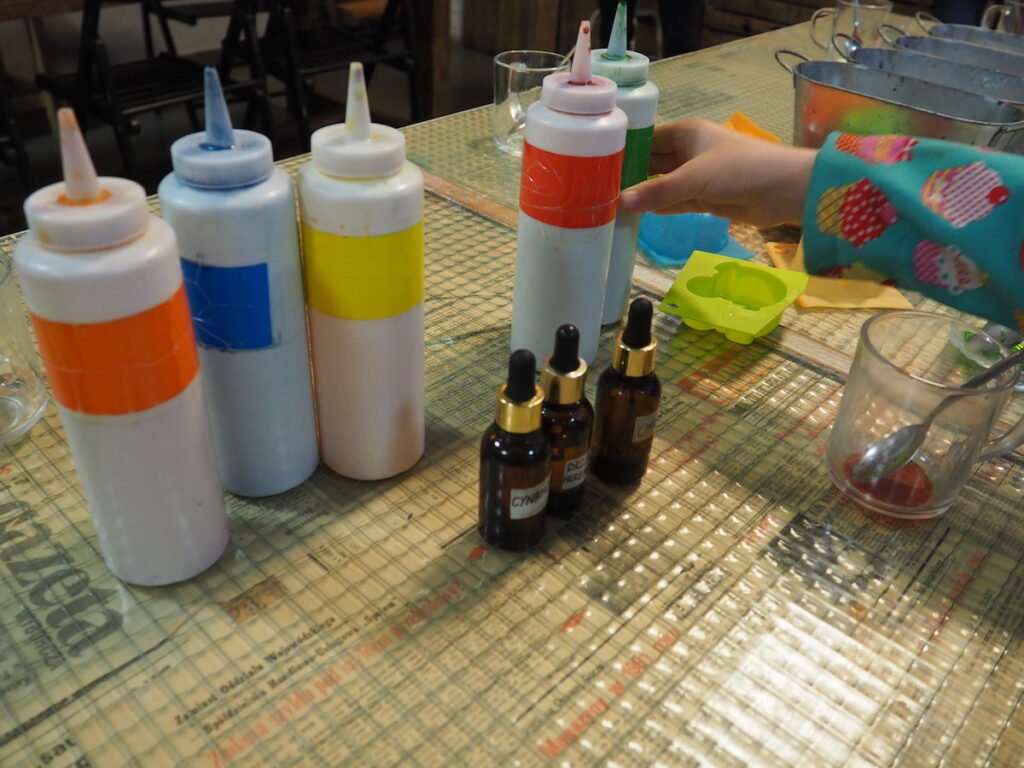 Exposition
The whole exhibition is not really big when it comes to the area, but a lot of exhibits are presented here interestingly and clearly. Your guide, step by step, introduced us to the intriguing world of personal hygiene history, although in the case of many generations it was rather the lack of it;). For example, we learned how the Romans took care of their physiological needs … without giving up on social contact.
We also found out that people were not washed practically throughout the Middle Ages, especially when it comes to monks or priests, because they considered the inconvenience of poor hygiene to be mortification, which in turn was to lead to God. One of the more interesting facts was about the potty hidden in the king's chair. Apparently, he was supposed to take care of his needs without leaving the banquet table, in this way to honour his guests, give them trust and not waste time on the toilet.
Both I and Kuba remembered some of the household appliances and cosmetics on display from our childhood. Zuza said that we too will soon be eligible for the museum! If you ever go to the Museum of Soap and the History of Dirt, who knows, maybe you will see us at the end of the tour by Frania's washing machine (produced in ancient times in Kielce :)) or washing in a cast iron bath with soap Kajtek or Jacek and Agatka :)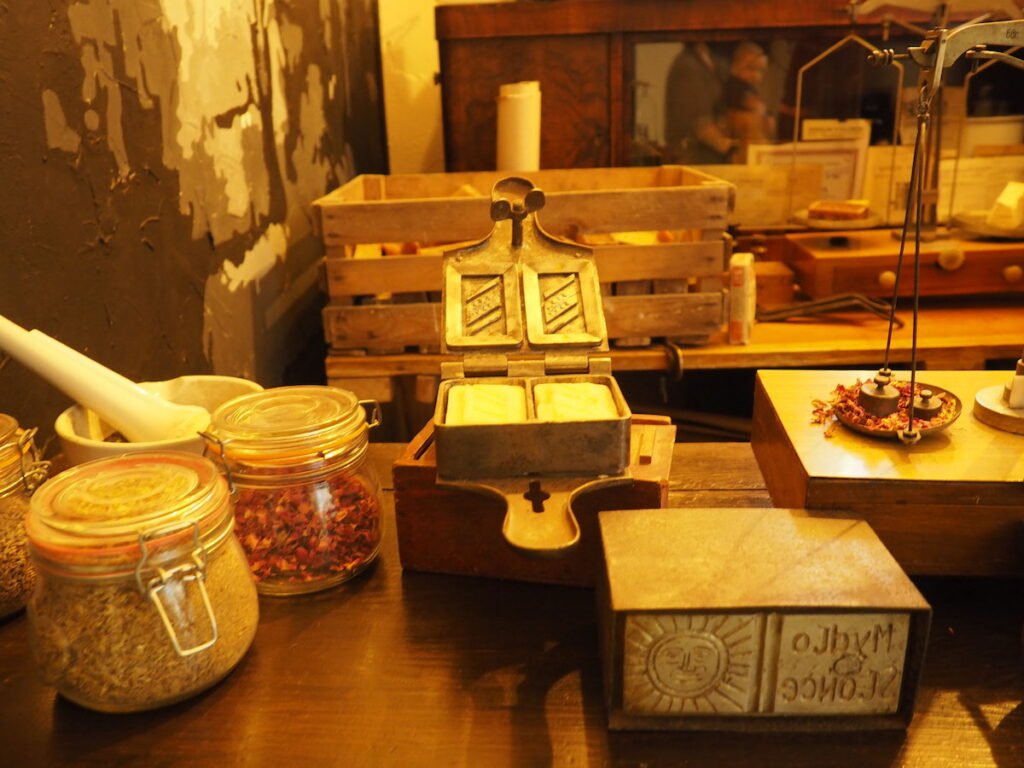 Worth a visit?
The Museum of Soap and History of Dirt is a cool tourist product! Well planned and thought out, full of exhibits (there are so many of them that it's impossible to even ask for them all!). Visiting them is very pleasant, and the story is not boring, because it concerns almost all of us. And a great idea is that we go out satisfied with a hand-made soap – the price of PLN 20 for a ticket seems small at once.
If you are going on a trip to Bydgoszcz, be sure to check out the Museum of Soap and History of Dirt. You will surely learn something new here, maybe shocking, maybe you will laugh, and if not, you will come out anyway with your own, original and unique soap! :)
What's in the neighborhood?
We liked Bydgoszcz very much. We were in it for only one day and we didn't get to know it too intensively. However, we ate tasty things, took a and felt the city's very nice atmosphere city. While leaving, we visited one place that we believe definitely deserves a mention. This place was the former DAG explosives factory, and now Exploseum!
You can read more about this place in the text – Exploseum.