Everyone likes to eat for a doughnut from time to time, and Spurgine, as the name suggests, should be associated with this delicacy. This confectionery, located on the pedestrian street in Kaunas, allows you to move back in time for several years, but more on that in a moment.
I started with the fact that the name obliges because Spurga in Lithuanian is just a doughnut.
Localisation
Spurgine is located on the pedestrian street in Kaunas (Laisvės al. 84). It is located almost in front of the Kaunas Hotel. The place is open from Monday to Friday from 8.30 a.m. to 8.00 p.m., on Saturdays from 9.00 a.m. to 8.00 p.m. and on Sundays from 10.00 a.m. to 7.00 p.m. However, it happens that they sell everything out earlier and closes.
If you are going in winter, remember that Spurgine is closed in January – they have holidays.
Interior
The first bistro in this place was established in 1960, and since 1978 it has been producing doughnuts and other delicacies. Interior is very original. You can see a piece of this in the photo. There is a very long "bar" waiting for you inside, where you can sit and enjoy your doughnuts and sweets. In the middle of the bar, there are ladies who give us doughnuts, coffee and ask if we want to add something.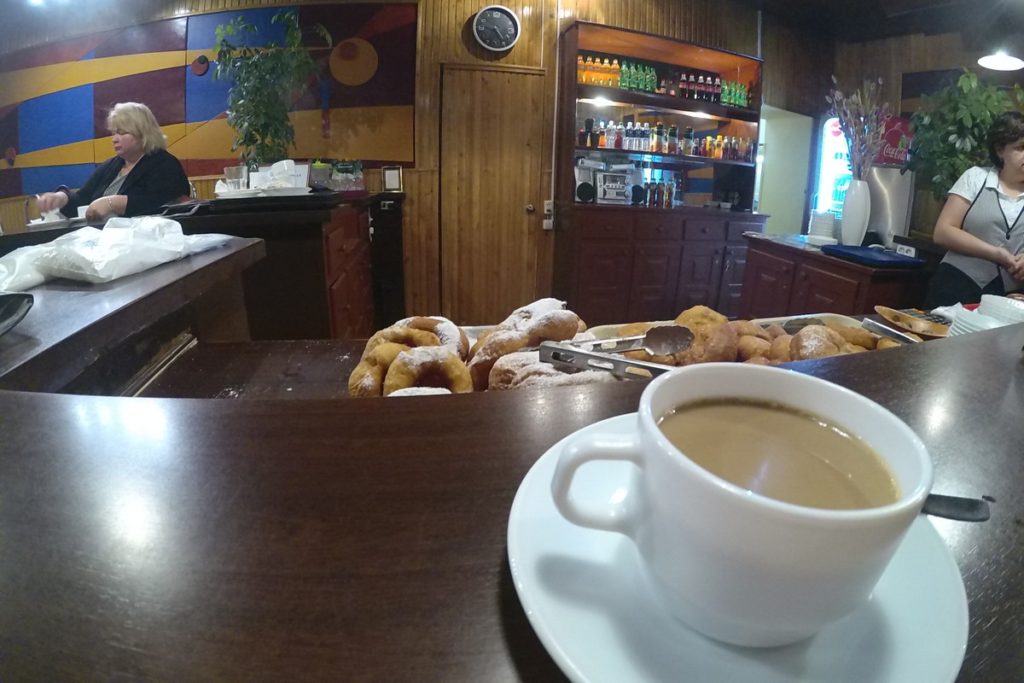 Offfer
In the menu, you can find a lot of products freshly made on site. In the beginning, I choose doughnuts with apple filling. Warm, soft and delicious! . For "dessert" I also ate one with meat – very nice, it reminds me of Ukrainian snacks. Various donut fillings are available, including apples, cheese, jam, but also mushrooms, meat or sausage.
The serving ladies usually speak English, so you won't have a problem with your order. During my visit, customers were mostly local residents. Some people sat down for a quick donut at the counter, while others took a dozen to go.
For a set of 3 donuts with jam, one with meat and coffee with milk, I paid a total of 3.8 Euro.
Worth to visit?
This is the place where time has stopped, but it is worth visiting. Its central location, tasty products and good prices make it a perfect place for a sightseeing break. If you don't plan a break in this place, try to come there on purpose, because doughnuts are good! :)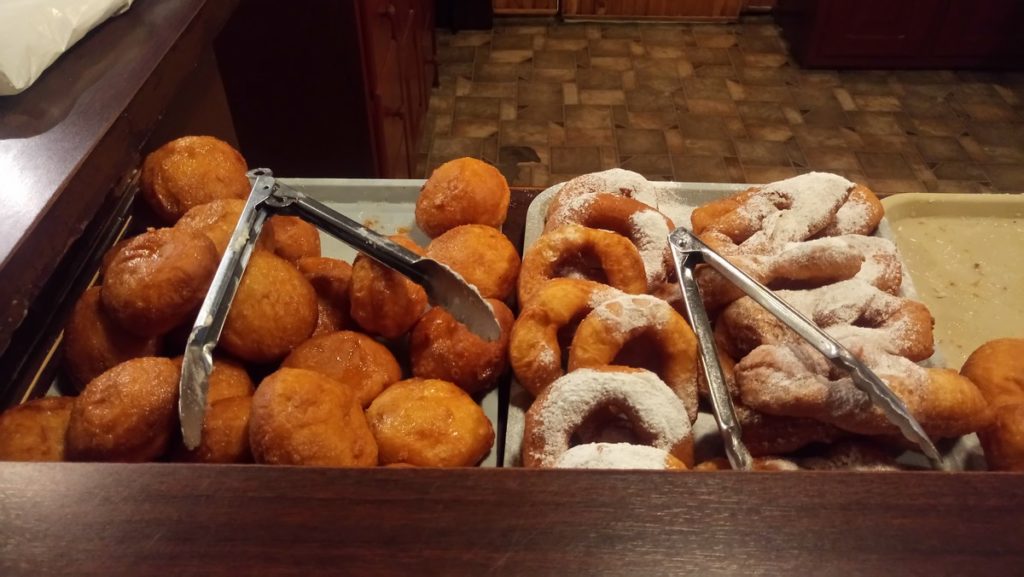 Kowno odwiedziłem na zaproszenie Kaunas IN w ramach realizowanego przez nich projektu Interreg.