I am a fan of Czech cuisine and it is easy to guess that I like to taste it on the spot, in the Czech Republic. However, I sometimes eat something Czech at home and in various restaurants. This time I visited the new restaurant Česká Kozlovna in Warsaw! See how it was!
Location
The restaurant is located at Piękna 11 street in Warsaw. It's not far from the Czech Embassy. There are a lot of places inside. You can sit at classic or high tables.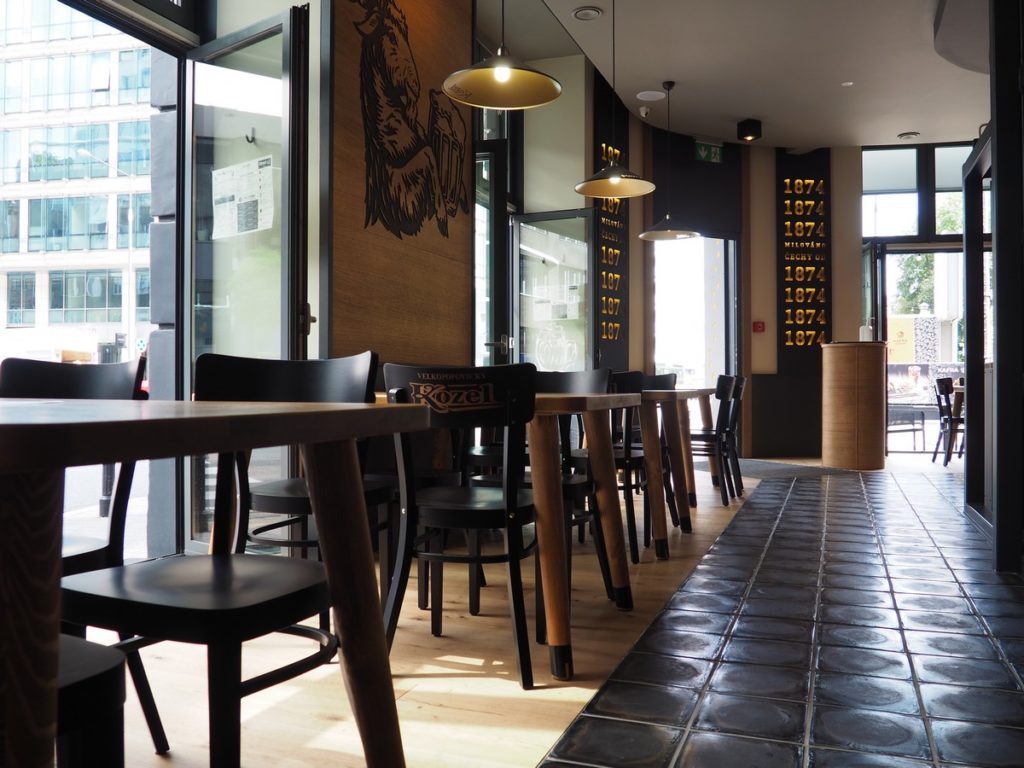 Česká Kozlovna – menu
As you can easily guess from the name, you will find Kozel beer in various versions (there is also řezané <3 (dark and light mixed)). In addition to beer, the menu includes soups (garlic and the soup of the day) and a lot of dishes. There are not only Czech classics such as fried cheese, dumplings stew or pork knuckle. You will also find beer snacks in Kozlovna.
What is important to me is also tap Kofola, which is undoubtedly the best in this version.
What did we eat and drink?
Kofola (0,5 l – 11 PLN)
Nakládaný hermelín (23 PLN)
Česnečka (15 PLN)
Hovězí guláš (35 PLN)
Salad (25 PLN)
Opinion
The service immediately showed up with the card. We also got glass coasters. After placing the order, we studied the menu. The garlic soup was tasty and rich. A bit too salty for me. The classic version – croutons, cheese and meat (lots of meat). You can find my garlic recipe here.
The next dish was actually a snack (hermelin). It is a marinated Czech cheese (camembert type). At this point, I can tell you that it was very good. After the degree of softening, you felt that flavors complemented each other very nicely. Slightly spicy with onion and garlic – one of the best I've had! The taste is specific, but not intrusive. It is served with bread.
I won't say much about the salad, because I didn't eat it, but it looked very nice. It consisted of roasted root vegetables with smoked cottage cheese and a thyme-lemon sauce.
Finally, the highlight of the program – knedliky with beef goulash. Knedliky were okay. The meat in the sauce was very well prepared and delicately decomposing into pieces in the mouth. However, I have two opinions about the sauce. The first is that it has shrunk too much, and the second is about spicyness. I like spicy, but a little less spicy would be better.
Česká Kozlovna – worth visiting?
Česká Kozlovna is an interesting place worth visiting. It's just starting its activity, so there is still a long way to go, but I like the concept and I will look in the future to see how it is doing.
Next time I will be without a car to fully check the menu paired with beer!
Interesting fact!
While in the restaurant, pay attention to the floor around the bar. It looks basaltic, and you can find this type of tiles in many Czech breweries!